Using Quick Parts in Microsoft Outlook 2016, 2013, 2010
Think back to your emails from the last month. How often did multiple emails contain the same information? This information could have been directions, privacy policies, answers to frequently asked questions... you get the idea. The Microsoft Office Quick Parts function allows you to build in saved auto text or images into your emails that you can easily access and use with just a few clicks.
Creating Quick Parts template
Create a new Mail message (from the File menu click New then Mail Message).

Tip. You can also create a Quick Part based off an incoming email message - drag it temporarily to the Outbox folder, open it, then continue below.

In the body of the message type the text that you are interested in saving as a Quick Part. You can also apply any Formatting to it (color, text size, etc.)
Highlight the text passage. Click the Insert Tab and then click on Quick Parts.

From here you can assign your new passage a Name and begin creating Categories if you have a variety of types of text that you will be saving. You are also given room to provide a brief Description of your Text so you will remember what you have saved. After you fill in all the details, just click OK.
Using Outlook Quick Parts
Click the Insert Tab and then click on Quick Parts.
Click the desired Quick Part that you are interested in using from the list.

Tip. You can type some first letters of the Quick Part name directly into the message, press F3 and the Quick Part will be inserted.
Tip. You can see only small previews of quick parts, If you are not sure that you want to insert that particular quick part, select "Organize and delete" from the context menu. You will see a dialog box where you can view the entire content. By clicking Insert you return back to the message and have the quick part inserted.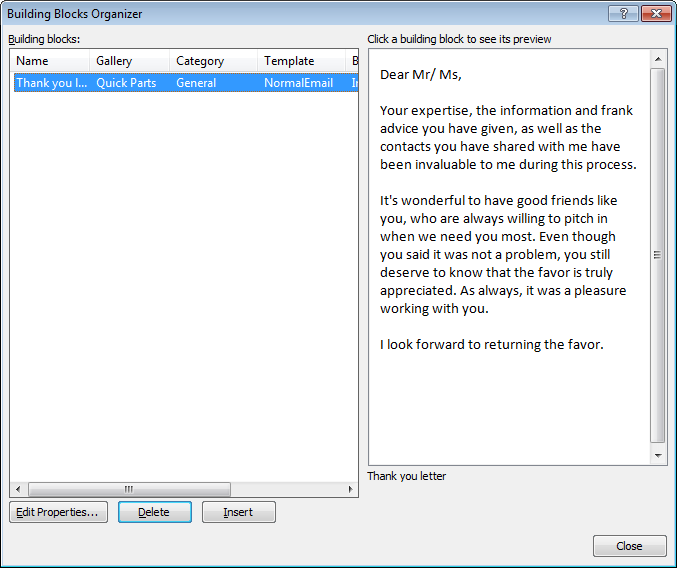 You have the option of just inserting them where your cursor is in the message or Outlook provides a few Insert Options. Once you have your Quick Parts text highlighted Right Click it to see the image below. You have the ability to automatically insert your Quick part as a Header, Footer, at the End of a Document, etc.
Tip.
if you frequently use Quick Parts you can add it to your
Quick Access toolbar
(Right click on Quick Parts and select "Add to Quick Access Toolbar").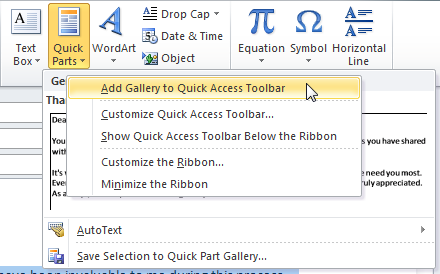 Managing Quick Parts
Editing Quick Part properties
Click the Insert Tab and then click on Quick Parts.

Right Click on your desired Quick Part and choose Edit Properties - here you can edit the name, description and category.

Editing content (there is only one way - the long way)
Remember the name and category of the Quick Part you will be editing (you will need this for your last step).
Insert your Quick Part into a message (see instructions above if you have forgotten this step already).
Make your necessary changes in the body of you message.
Highlight the text, click on Quick Parts and select "Save selection to Quick Part Gallery".
Enter the same name and category as the original Quick Part when prompted- Outlook will then suggest that you replace the existing Quick Part.

Before I send you off to use Quick Parts I need deliver both the good and the bad news about this function.
Bad news first (the good news is much better, I promise)- if you are creating lots of Quick Parts:
There are no search options making finding the right one somewhat difficult or time consuming.
There is also no hierarchy; you only get categories of one level.
Both previewing and editing the content of your Quick Part is very difficult.
Lastly, there is no easy way to share your Quick Parts with another person or send it to another PC.
Now, the GOOD news! One of the best things about Quick Parts is that it is built into Microsoft Outlook, and works everywhere. You can use Quick Parts in mail messages, calendar requests, etc. and it is simple once you do the set up.
Template Phrases for Outlook: easy-to-use alternative to Quick Parts
Since there were so many limitations with the Quick Parts function AbleBits has provided an excellent way to address these issues: Template Phrases for Outlook.
I prefer to use the Template Phrases add-in because it addresses all of the weaknesses of Quick Parts and creates a stronger function for you! It features Shared Templates, Quick Search and a Favorites or Recently Used function- saving you and anyone that you share repeated information with time. Now, how easy and quick does it sound to send those directions or FAQ's over and over and over again?
You may also be interested in