You can use Shared Email Templates not only for your email messages but also to create appointments and schedule meetings in the Outlook Calendar. You can prepare templates for appointments and meetings and automatically fill in the body and some fields of a calendar event with the help of macros.
To start using Shared Email Templates macros, refer to this guide: How to use macros in templates
Use templates to create appointments
Start creating an appointment and run Shared Email Templates by clicking its icon in the ribbon. Find the template you need (or create a new one) and click the Paste icon.
The body of the appointment as well as the Title and Location fields can be filled in with the values you specify in your template:

Helpful macros
For the Title field, use the ~%Fill macro. If you already have some text in the field and want to keep it, opt for the ~%Add macro.
Use the ~%Fill macro for the Location field as well. If you need to keep the details you already have in the field, choose the ~%Add macro.
To insert the contents of the Location field into the body of an appointment, use the ~%Insert macro.
Create meetings with templates
You can use templates for meetings. Start creating a meeting, run Shared Email Templates, and insert the template of interest to fill in the body of the meeting, the Title, Required, Optional, and Location fields: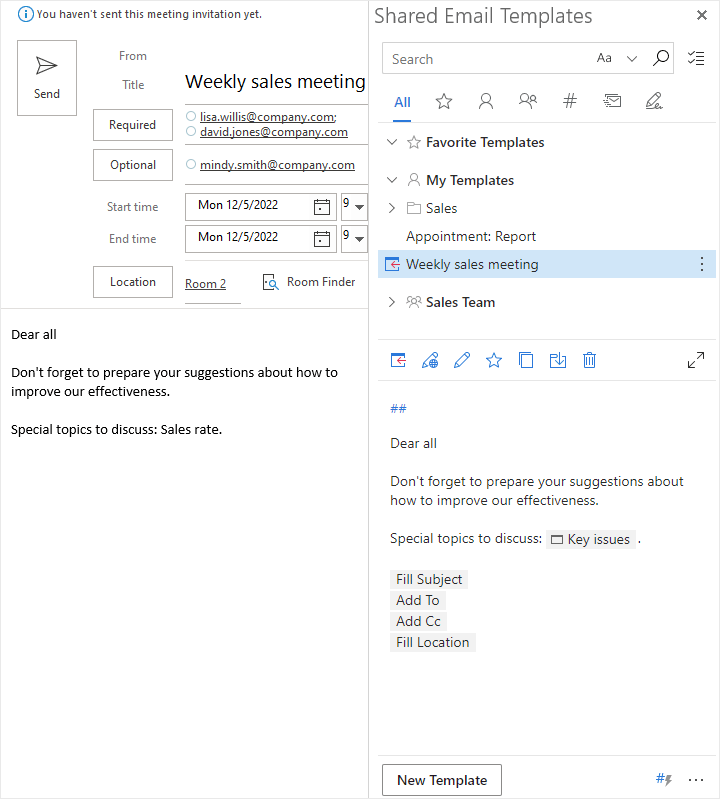 Helpful macros
More macros for meetings and appointments
You can find all the Shared Email Templates macros on the Сomplete list of macros for templates page.