Text Toolkit for Excel is a brand-new add-in for your text cells. It works in Excel for Mac, as well as in Excel for Windows and Excel on the web.
Using Text Toolkit, you can add characters, remove strings, split cells, extract text, trim spaces, convert symbols, change case, count chars, swap text, join cell values together, combine rows, and look for strings to mark, replace, remove, or extract them with the help of regular expressions.
Supported Excel versions & browsers
Excel for Windows connected to Office 365
Excel for Mac connected to Office 365
Excel for Windows 2019
Excel for Windows 2016
Excel for Mac 2019
Excel for Mac 2016
starting from 16.24
Excel on the web

Google Chrome 78 and higher
Microsoft Edge (Chromium-based) – beta support 79 and higher
Safari 12 and higher (limited support)
Firefox 69 and higher
How to install the add-in
To launch the Text Toolkit add-in, please follow the Installation guide.
Getting started with Text Toolkit
To run the tool, go to the Home tab and click the Text Toolkit icon:


You will see the add-in pane with all the tools it includes: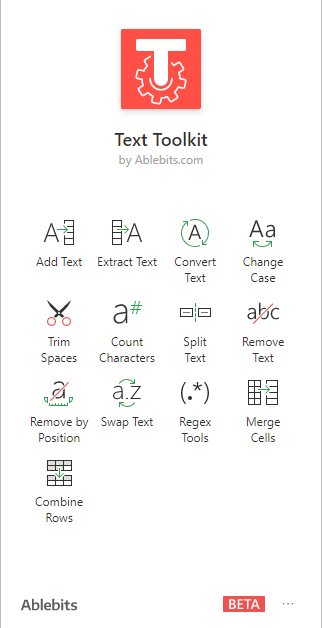 In the lower-right corner, there is the More button, which you can click to open the More menu:

There are five options on the list.
Select View logs to copy the log files.
Choose Remove all backup sheets to erase backup copies of your sheets created by the add-in.
Online Help will open the corresponding documentation page in your browser.
Select Ask a question to contact us.
Click About to see the app version.
How to run and switch the tools
To run a tool, click its icon once:

To select another tool, click the App Menu icon: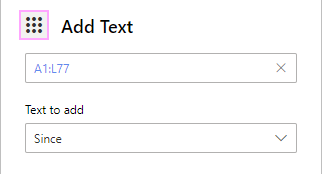 How to send us your log files
We store your log information locally and do not pass it to any third parties. If you contact our support service in the case of an issue or a bug, we may ask you to send us your log files.
To get the log files, please go to the More menu and select View logs:


Click the Copy to clipboard icon:


Then paste the logs into the message body and send them to us.
How to use the tools
In the list below, click on the tool of interest to jump right to the corresponding manual:
Important links
Learn more about the add-in releases, your privacy protection, and have a look at the End-User License Agreement.