Use Select Randomly to get a random selection from a set of your Excel data range. It's also possible to specify the percentage and number of cells, rows, or columns you want to get from the entire selection.
How to randomly select values in a range
On the Ablebits Tools tab, in the Utilities group, select Randomize > Select Randomly:


The add-in offers you the following options: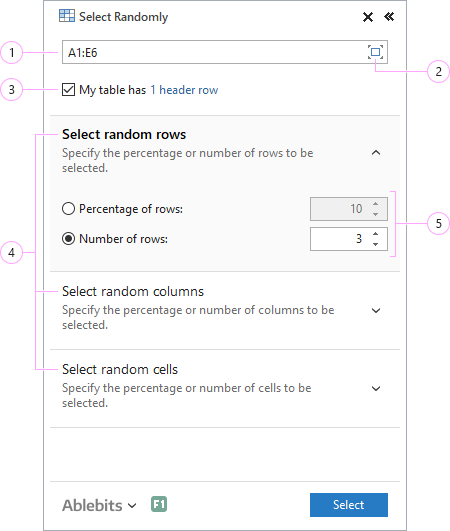 Your entire data range will be selected by default. You can choose another range by selecting it on the sheet or typing a range reference in this box.
If you changed the range, you can select the entire table back by clicking the Expand selection icon.
You can exclude header rows from the selection if there are any by checking My table has 1 header row.

Tip.

If there are more headers in your table, click on

1 header row

, enter the number of lines with labels, and they won't be selected:

Expand the group with the option that suits you best:

You can select some number or percentage of random rows in your Excel table.
Pick random columns in your worksheet.
Or select some random cells in your range.

Specify the number or percentage of rows, columns, or cells that you want to select. You can enter the necessary value into the percentage or number field respectively. Or set these values by clicking up and down arrows in the fields.
Once the options are chosen, click the Select button and get your datasets selected.