Here is one more post continuing the topic of attaching files to email messages in Outlook. I hope you had a chance to read my previous articles related to OneDrive and SharePoint but this time I would like to cover one more way of inserting attachments with the Shared Email Templates add-in.
Shared Email Templates as your personal helpmate
Most of Outlook users are dealing with attaching documents, images and videos to email messages on a daily basis. If you got bored with repeated manual steps, give a chance to Shared Email Templates. Let me outline some benefits and, maybe, you will find them mobile and very timesaving:
the add-in works on Outlook for Windows, for Mac, or Outlook online;
it allows creating teams and sharing common templates with your teammates;
finally, you can equip your templates with multiple macros, personal shortcuts and datasets.
Keeping up with the line, today I'm focused on enclosing files from URL links. To help my task I create a template using the special attachment macro, save it and paste it whenever I want: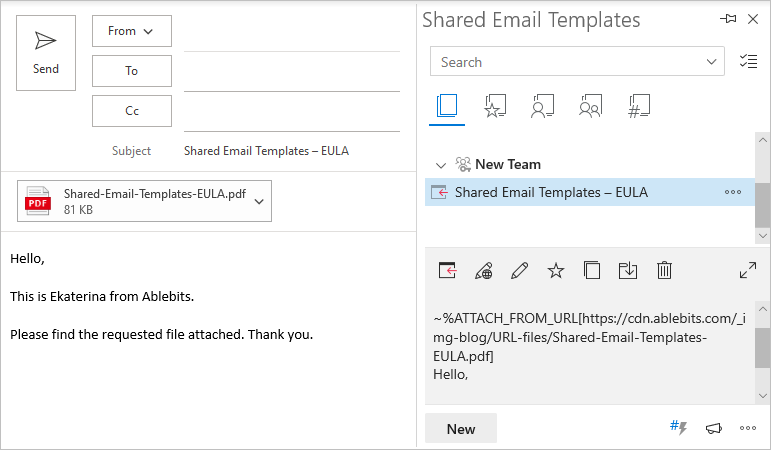 That was fast! Try the same and your email recipients or teammates will be able to send and view extra data not limited by their access permissions.

Short way using the ~%ATTACH_FROM_URL[] macro
In this passage, I'm taking the point further to the steps and some important notes everyone should keep in mind. To make it simple, I will give you an example based on my own experience.
From time to time we all need to pull and send the same documents in public use from different pages or websites. I'm not an exception, Shared Email Templates – EULA is one of the most popular demands. Now that's what I do:
For the start I prefer to prepare the reference to my resource. So I right-click on my file and copy its address:


Note. The size of your attachment must not be greater than 10 MB (10240 KB).

Then I open the Shared Email Templates pane and create a new template.
Tap the Insert macro icon and choose the ~%ATTACH_FROM_URL[] macro from the drop-down list:

Now replace the default text in square brackets with the URL already saved in your clipboard by pressing the Ctrl+V keyboard shortcut:

I fine-tune my template by giving it a name, adding message body and hitting Save:

This tricky path will take just a bit of your attention, but it may save hours of your time. Your team would be in benefit as well since no access permissions or log-in are required. The URL file will be added to a current Outlook message each and every time you paste the template.

Transparent warnings
It might happen that you will see this type of warning when pasting a ready-made template: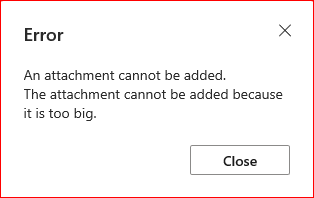 Please recall my note from step 1: the size of your attachment must not be greater than 10 MB (10240 KB).
And if you get this message: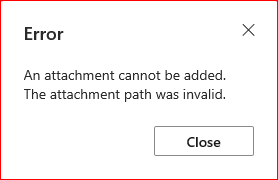 I'm afraid you need to revise your link: make sure you don't put a link copied from OneDrive or SharePoint, it won't work at all! You can find the articles related to these platforms below.

In conclusion, I should say that it is not easy to cover all the cases and aspects in one post. I will be pleased to help you out if you have any questions, the Comment section is all yours!
You may also be interested in