The Preview pane in Windows Explorer is a headache for many Excel users, but most of them don't even know about it. Excel may just quietly crash, warn that some workbooks are already open in another application, work slowly, or refuse to run any add-ins. In general, nothing says that the Preview pane is the cause of the problem. One can find plenty of discussion on the Web about the troubles this pane causes starting from Office 2007. A bunch of bug reports has been sent to Microsoft, but the problem has not been solved yet. Therefore, we recommend turning the Preview pane off to avoid unpleasant surprises it might bring you.
Open File Explorer
Note.
If you have numerous File Explorers opened, close all of them except for one.
There are several ways to open File Explorer:
Press Win + E on your keyboard.
Click the File Explorer icon on the taskbar (normally, it is in the bottom left corner near the Start button):

If you like it more complicated or the previous ways didn't work for any reasons, you can use Windows Search. Click the Start button in the bottom left corner and type in "File Explorer":

Turn Preview pane off
In File Explorer, click on the View tab. In the Panes group, you will see the Preview pane icon. In the screenshot below, the Preview pane in enabled, as seen by the blue background it has and the field on the right: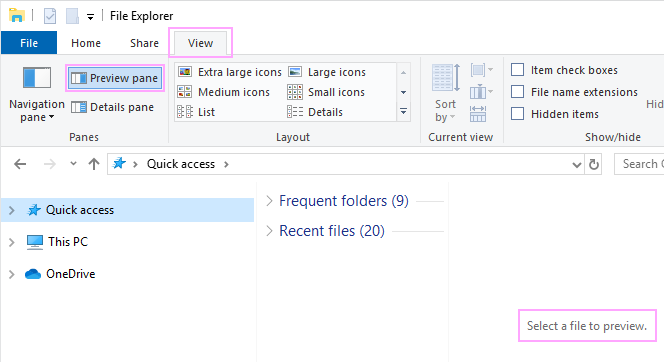 To disable the Preview pane, simply click it once. Also, you can use the Alt + P shortcut.
Note.
If you use Windows 7, find the
Organize
group, open the
Layout
context menu, and click
Preview pane
. Find more detailed instructions for Windows 7
here
.
Now the Preview pane is disabled and you can proceed to work with the Ablebits tools: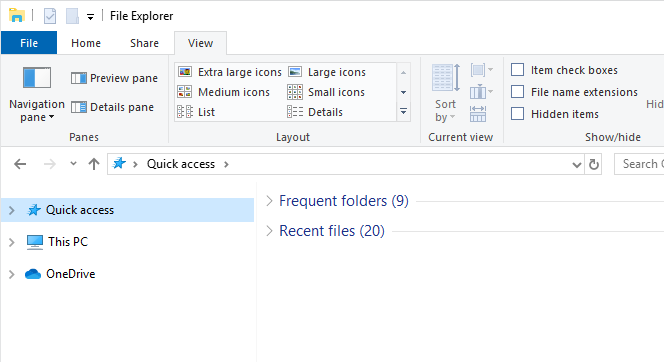 Related issues
No Ablebits tabs in the Excel ribbon
Ablebits tabs are present but not clickable
See also