Today I'm going to show how you can automatically reply to emails in Outlook without using an Exchange Server account (POP3/IMAP accounts). If you are not sure which email account you use, you can start with this: How do I find out which email account I use?
How to determine the type of your email account(s)
Once you have decided that auto response should be on your pre-vacation preparation checklist, the first thing for you to do is find out which email account you have - Exchange server or Outlook POP/IMAP.
The easiest way is check the type of your email account is to go to the File tab > Info and look under the Account Information.
If you have several accounts, click the tiny black error on the right side to open the drop-down list with all your accounts. Now you can see which account is Microsoft Exchange based and which is POP/IMAP.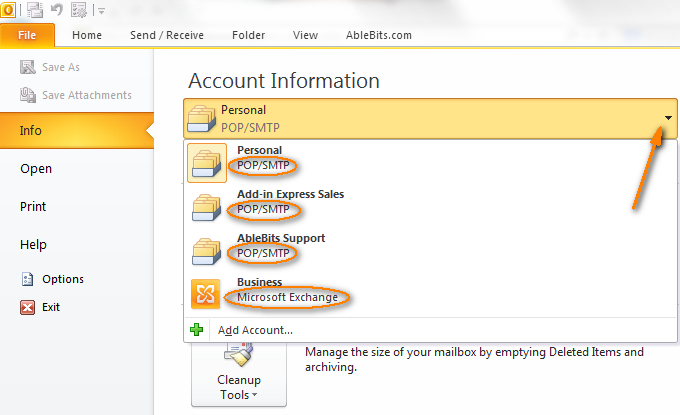 If you need more detailed information about your accounts (in particular, you may want to check which is the default account), look under the Account Settings.
In Outlook 2010 and Outlook 2013, switch to the File tab > Info > Account Settings > Account Settings...
A double "Account Settings" above is not a misprint :-) First you click the square button and then choose the Account Settings... command from the drop-down list as shown in the screenshot below (if you do not have an Exchange based email account, this will actually be the only choice available to you).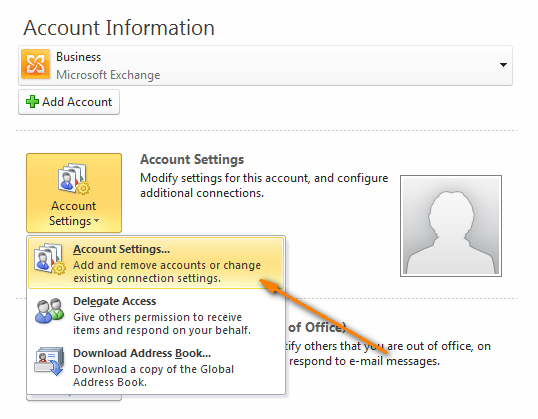 Clicking the Account Settings... command will open the following window: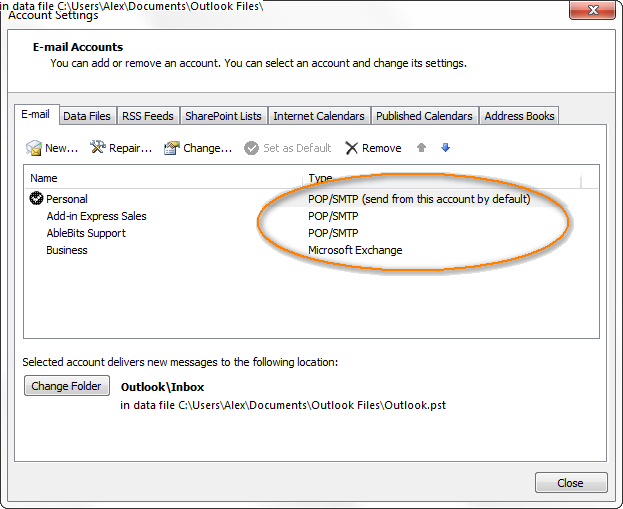 In Outlook 2007, you can open it by going to Tools > Accounts Settings > E-mail.
In Outlook 2003, you can find it under Tools > E-mail Accounts... > View or change existing email accounts > Next.
Now that you know what type of email account you are using, you can start setting up your automatic reply straight away.

Setting up out-of-office auto reply for Outlook POP3/IMAP accounts
Unlike the Exchange Server accounts, POP3 and IMAP account do not have the Automatic Replies feature (formally Out of Office Assistant). Nevertheless, you still can set up Outlook to automatically reply to some or all of your incoming email messages while you enjoy your vacation.
Note: In case of POP/IMAP accounts, Outlook should always be running and configured to check intermittently for new messages. Naturally, your computer must be turned on all this time.
Of course, it is not very convenient or may be even unsafe to leave a working machine without any supervision for a long time, but there is no other way. Though, some email providers (e.g. Gmail or Outlook.com) allow creating autoreplies directly on their web-sites. So, first of all I'd advise you to check with your email provider if it is possible to configure your vacation auto-response on their side.
Below you will find the step-by-step instructions on how to create an out-of-office auto-response without using an Exchange Server account. You can do this by using an email template in combination with Outlook rules. But be aware that this functionality is available in Outlook 2010 starting from Office 2010 Service Pack 1. Okay, let's get cracking!
Creating an autoreply message template
First, we need to create a template with the out-of-office message that will be automatically sent to people who sent you an email. You do this in the usual way by clicking the New Email button on the Home tab.
Compose the text for your automatic reply. If it is intended for your personal account, it can be similar to what you see in the screenshot below. For business out of the office messages, you'll probably need something a bit more formal :)
When you have finished writing the message, save it by clicking File > Save As in the message window.
In the Save As dialog box, give a name to your auto reply template and choose to save it as Outlook Template (*.oft). After that click the Save button.
A word of caution to advanced users: do not change the destination folder for this file, save it exactly to the location that Microsoft suggests, namely to the Microsoft > Templates folder. "Why to advanced users?" you may ask me. Because a new user would not even dare think of changing anything unless they are explicitly told to do so :) .
Well, we have done the first part of the job and now you need to create a rule to automatically reply to new email messages.

Setting up a vacation autoreply rule
Start creating a new rule like you usually do by clicking the New Rule button under Home tab > Rules > Manage Rules & Alerts.
Choose to "Start from a blank rule" and "Apply rules on messages I receive", and then click Next.
Specify the conditions you want to check. If you are setting an out of office auto-response for all incoming messages received from all your accounts, you don't need to check any items here.

If you want automatic replies to be sent only for messages received from one of your accounts, or containing specific words in the subject or body, or received from specific people, then check the corresponding options in the upper part of the dialog under Step 1: Select condition(s) and then click underlined values under Step 2: Edit the rule description.

For example, I am creating a rule to autoreply to all messages received via my Personal account and my settings look like this:

On the next step, you define what you want to do with the messages. Since we want to reply using a specific template, we choose exactly this option and then click a specific template under Step 2: Edit the rule description to choose the template we want.
In the "Select a Reply Template" dialog box, in the Look In box, choose User Templates in File System and select the template we created a few minutes ago (out-of-office-reply).

Click Open and this will bring you back to the Rules wizard where you click Next.

On this step, you are to set exceptions to your automated reply rule. This is not an obligatory step, and the common practice is to skip it and not to add any exceptions. However, if you don't want to send an out-of-office notice to some senders or to messages received from one of your accounts, you can check "except if from people or public group" or "except through the specified account", respectively. Or, you can choose from a handful of other exceptions available to you.

Note: Some people also choose not to auto reply to returned emails (if the subject contains "returned mail" or "undeliverable" etc.) in order not to create an infinite loop between two mail servers and not to clutter their inboxes with undelivered messages. But this is actually an extra precaution, because the "reply using a specific template" rule will send your auto-reply only once during a single session, i.e. until you restart your Outlook. And if you set an exception like that, an automated response won't be send to absolutely all emails containing the specified word or phrase in the subject line, e.g. "What do I do when I get a returned mail?".

This is the final step where you specify a name for your auto-reply rule and review the rule's description. If everything is Okay, make sure the rule is turned on and click the Finish button to save the rule. That's all!
In a similar way you can set up several vacations auto-reply rules, e.g. with different text messages for your personal and work email accounts, or for messages received from certain people. For example, in a personal autoreply intended for your friends you can leave a phone number on which you can be reached; while in your business autoreply you can specify the email address of your assistant or a colleague that can handle the most urgent matters during your leave.
Tip: If you are creating a few auto response rules, you can check the "Stop processing more rules" option so that your vacation autoreplies won't conflict with each other. This option is available on the 3rd step of the Rules Wizard when you specify what you want to do with the message. However, be very careful when choosing this option. If you have some other rules in your Outlook and you want them to be applied to incoming messages during your holiday, do not use "Stop processing more rules".
Important! Don't forget to turn off your autoreply rule when you return :) You can do this via Home tab > Rules > Manage Rules & Alerts. Also, it may be a good idea to create an Outlook task or to-do reminder that will remind you to turn off your out off office auto response rule.
How to set an automatic vacation response for Gmail accounts
Gmail is one of email providers that let you configure automated vacation replies on their web-sites. In this way, you won't have to leave your PC working when you are away. You set up Gmail's vacation autoresponder in the following way.
Log on to Gmail.
Click the gear icon in the top right corner and select Settings.
On the General tab, scroll down to the Vacation responder section and select "Vacation responder on".
Schedule your vacation auto response by setting the first and the last day (optional), then type the subject and body of your message. If you do not specify the End date, remember to set the "Vacation reminder off" on your return. It's pretty easy, isn't it?

Tip: It may be a good idea to select "Only send a response to people in my Contacts". Unlike Microsoft Exchange server and Outlook that send an automatic response to each sender only once, Gmail will send your vacation autoreply every 4 days to every person that sends you several emails. And if you receive a lot of spam messages or if you are leaving for a long period of time, this can help you avoid a lot of cleaning when you return.
How to set up automated vacation replies for Outlook.com and Hotmail accounts
Outlook.com (formerly Hotmail) accounts also allows you to set the out-of-office auto replies directly on Hotmail and Outlook.com web-sites. This feature is called automated vacation replies and you can set it up in this way.
Head over to Outlook.com (or Windows Live Hotmail) and log on.
If you have an Outlook.com account, click the Gear icon in the top right corner next to your name and select "More mail settings".

If you have a Hotmail account, click on your name in the top right corner, and then choose Options > Mail.

Under "Managing your account", select "Sending automated vacation replies" to configure your auto-reply's settings.
Outlook.com does not provide an option to schedule your out of office replies, so you simply select "Send vacation replies to people who email me" and type the text of your vacation notice.
Note that the "Only reply to your contacts" option is checked by default underneath the vacation reply message. If you want to automatically reply to everyone's email, you can of course uncheck it. Though, it may be reasonable to leave it checked to thwart spammers.
Note: If you have a new Outlook.com account, the Vacation reply feature might be turned off. Microsoft will automatically enable it after you've used your account for a few days. If you want to turn it on right away, you will need to verify your account with a mobile phone number, you can do this using their Add a phone page.
Well, this seems to be all you need to know about automatic replies on different email accounts. Now that your out-of-office auto-response is properly configured, shut up your computer (remember to leave it running if you use a POP/IMAP account) and enjoy your vacation! :)

You may also be interested in