The Excel's Transpose Range tool flips rows and columns in your table. If you need to reshape your worksheet for further processing, use this add-in's functionality and get quick results. Follow the steps below to convert rows to columns or columns to rows in your Excel table.
How to transpose a range in Excel
Open the workbook with your data to transpose and click the Transpose icon in the Transform group on the Ablebits Tools tab in Excel:


You can see the Transpose Range pane with the following options: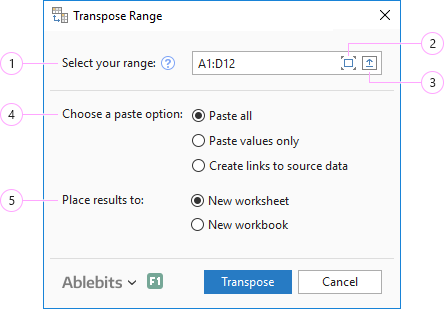 By default, the add-in highlights the whole range with data in your worksheet. You can select the needed range in your Excel worksheet or enter it manually in this field.
To get the used range highlighted again, select a single cell in the table and click the Expand selection icon.
You can also change the range by clicking the Select range icon and choosing it manually.
Decide how you want to paste the results:

Paste all. If your original table contains formulas, they will be pasted together with their values.
Paste values only. Select this radio button if you don't want to transfer formulas into the resulting table.
Create links to source data. This will automatically update the results when the source data changes.

Now you can pick the location for the resulting table:

Select the New worksheet radio button to get the table in the existing workbook.
Click New workbook to create another file.
Click the Transpose button to see the results.