When you install the Ablebits product and the following informational message pops up once the installation process is complete, you may not see the Ablebits tabs in the Ribbon after starting Excel and the add-in will hardly appear in the list of COM Add-ins.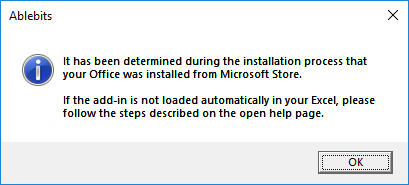 The issue happens due to specificities of the Office version installed from Microsoft Store which is run from the sandbox with its own data registry. If you use such a version of Office on your machine, the add-in can't be loaded automatically. In this case please take the steps below to manually add the Ablebits program into Excel.
Detect the bit version of Microsoft Office (32-bit or 64-bit)
Launch Excel and open a blank workbook.
Click File in the top left corner, and then select Account from the menu on the left.
Click About Excel in the Product Information section:

When the dialog box opens, you'll see the full version number and bit version (32- or 64-bit) of your Office at the top:


Manually load the add-in in Excel
Click File in the Excel Ribbon again and go to Options.
Choose Add-ins on the left side of the Excel Options dialog window.
Select "COM Add-ins" from the Manage drop-down list at the bottom of the window and click Go:

If the Ablebits add-in is not listed in the COM Add-ins dialog box, click Add and locate the add-in:

Browse to the add-in's installation folder. By default, it should be as follows:

C:\Users\USER_NAME\AppData\Roaming\Ablebits\Ultimate Suite for Microsoft Excel


Note. If you can't find the AppData folder, it may be hidden. To make it visible, please go to Control Panel -> Folder Options, switch to the View tab, select the "Show hidden files, folders, and drives" option and click OK.

Find and select adxloader.dll for 32-bit Excel or adxloader64.dll if you run 64-bit Excel:

Click OK.
If the add-in is successfully added, you'll see it in the list of COM Add-ins as well as in the Excel Ribbon: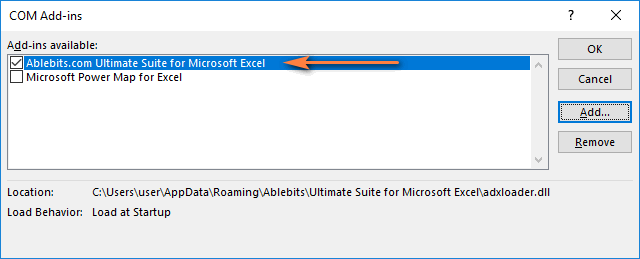 If you have difficulties on any of the above steps or the instructions don't work for you, please leave your comment below or contact us at support@ablebits.com. Our support service assistants will do their best to help you solve the problem.
See also: