Word Online vs. Google Docs: The first glimpse
Table of Contents
Introduction
The first thing one needs to understand about online editors is that they are functionally far from their older brothers. It would be even more honest to say their "brother", I mean MS Word. ;) However, all the main functions are implemented well and you can carry out most routine tasks quite easily, almost as if it were a usual desktop version. Moreover, guys from Microsoft and Google tried hard to keep the usual interactivity, hotkey combinations, and even the context menu. Even though it is not perfect, it is enough for common work! Besides, the degree of competition is so high that you can actually use it for free! It's fantastic that I don't have to pay some USD 150 for the Office package at home. Business owners and managers can get subscriptions for around USD 5 for a user per month and satisfy the lion's share of their needs for office packages, saving quite a lot at the same time; but let's discuss this later.
Appearance
You know how they say, clothes make the man. Whatever people say about the functions, options, and other things that help us in our work, we subconsciously seek what's pleasing to the eye. Then we deal with either the shortcomings of the interface, or the limitations in functionality. C'est La Vie, nothing is perfect. Well, let's begin with what we see.
First look
So, first and foremost, both products have a usual set of essential controls. Those who create indents with the help of spaces and add spacing between the paragraphs using line breaks will like it even better: there is nothing redundant. ;)
Word Online
It tries to be a twin for its desktop brother, which is definitely good. You find yourself in a familiar environment where everything is recognizable and usual. Newfangled trends, which the designers like to add to new products so much, are not present here. You are focused on your work.
Word Online: a general view that reminds you of Word 2016
Still, the quality of the controls offends the eye. Someone at Microsoft definitely forgot to put on the glasses. They are poorly drawn: awkward in some places, grainy and fuzzy in others, sometimes they even have some childish blunders. Pay attention to the U button that went up. This is quite peculiar... They are not adapted to high-resolution screens. In short, it is not nice. People who have Macs and 4K monitors will be disappointed. By the way, Google Docs don't have such problem.
Word Online: an example of unadapted image in the toolbar with 200% dpi:
The way Page Ends are displayed deserves special attention. More specifically, the fact that they are not displayed. I realize that it is the era of the Internet and e-documents now, but we still have a lot of papers in our life. What I want to say is it will be difficult to identify the way the document looks on paper simply because you will not see the spacing at the top and at the bottom of the page. The problem is much more severe: you don't see the headers and footers, page numbers, bookmarks... You need to switch to the reading mode. This is not convenient.
Word Online: the way text flows from page to page. The Show Page Ends mode is enabled! Headers, footers, page numbers, and bookmarks are not displayed.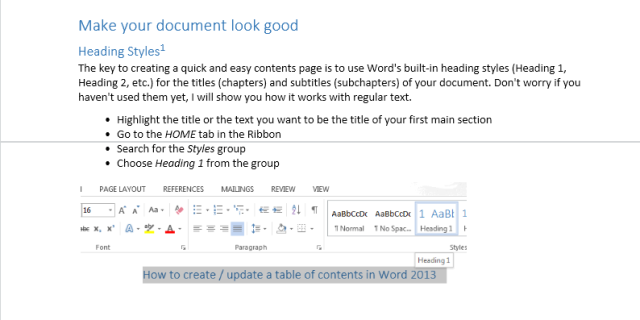 Let's compare it to the way it looks in Google Docs.
Google Docs: the way text flows from page to page. The Page Layout mode is enabled.
Google Docs
As they say, every man to his taste, but the first time I saw Docs, I had an impression that I found myself in the past. Raised buttons, gradient, the menu line in the manner of File - Edit - View, everything is black-and-white... The aficionados of the classic menu and Macs must hate me now, but please wait. I must note that the outward simplicity hides some of the most useful aspects that I will describe a bit later.
Google Docs: general view.

Google company has the best glasses in the world, perhaps this is why they don't have any problems with the quality of their controls. :) Standard resolution shows it just as perfectly as 4k or 200% dpi.
Google Docs: an example of displaying the toolbar with 200% dpi.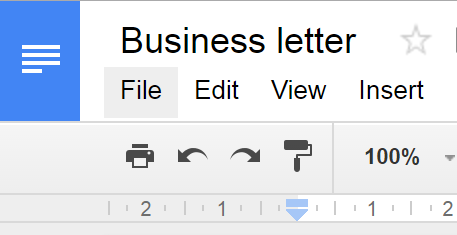 Ruler
The availability of the ruler in the Docs deserves special attention. Note that Word does not have a ruler! Yet the ruler is the most convenient tool for resolving issues related to text borders, paragraph and list indentation. The ruler will let you perform all these tasks in a snap. Word will make you go through setting these values manually.
Google Docs: a horizontal ruler. Word online doesn't have such tool.
General perception, the convenience of work with the controls.
Generally, the controls in the Word toolbar are perceived easier. The color, pictograms, grouping, animation, and interaction make work with the Word ribbon practically unnoticeable. You can quickly and easily find what you need. Even an inexperienced user can find how to add a bookmark, apply style to a table, or set up the page layout. For example, when you work with tables or images, a new section will appear in the ribbon, and you will see it right away.
Pay attention to how much better the selected controls look in Word. Just a glimpse is enough to understand what kind of alignment, style, and other formatting options are applied.
Formatting indication in Word online
Word online: table design section in the ribbon
Word online: a section for editing tables in the ribbon.
As for Docs, sometimes you have to read everything there is before you find what you need. Monochromy and the abundance of text does not foster quick interaction.
Google Docs: a general view of the toolbar when working with a table. Additional actions are presented as text; this doesn't help one perceive them quicker.
Context menu
I'm not going to discourse on the benefits of the context menu. It is clear: if you need anything, right-click your mouse. Well, Word has the best context menu. You get a full set of formatting controls in one click right under your mouse cursor, including lists and styles. It is incredibly convenient when you need to go over the text and format certain parts of it. You don't need to go up to the menu or press hotkeys, just hold the mouse in one hand and a cup of coffee in another.
Moreover, the menu changes depending on the content. It is dynamic: if you want to change formatting, additional options will be hidden and the formatting options will be available until you finish.
A context menu in Word online: the menu is dynamic and adaptive; this makes work easier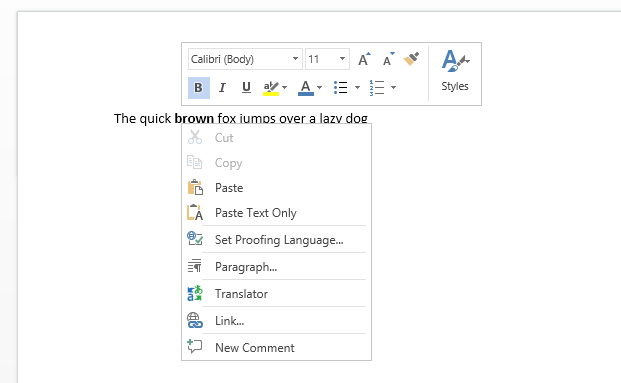 Right, Docs have some room for improvement in this area. See it yourself.
A context menu in Google Docs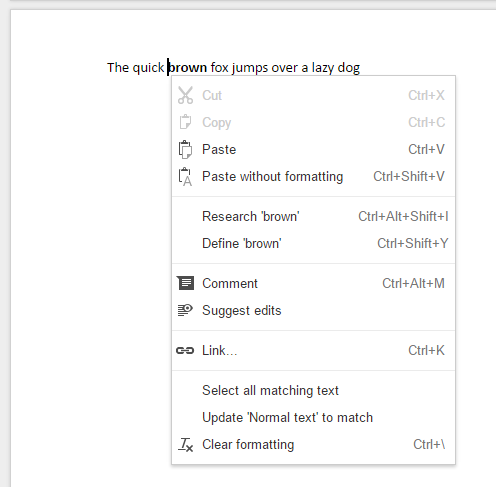 However, they have the following features: "Select all matching text" and "Update 'Normal text' to match". For now, I will just say that they are incredibly useful, and I will describe them in more detail in my next blog post "Creating and editing a document".
Compact mode
Note. "To show how this is going to look on notebooks, the window sizes in the screenshots show maximized windows on the monitors with the resolution of 1366x768".
The entire ribbon in Word can be hidden. This saves quite a lot of space and you get any necessary feature at hand + click. Unlike Docs, the ribbon is automatically minimized back. This is VERY convenient. However, you get a pointless line with the document name, subscriber's name, and the "Share" button visible. Why? The status line, again, doesn't add any space at all.
Word Online: compact mode.
The compact mode of the Docs is really compact. You get only the essentials in sight. However, getting to some function in the menu won't be as easy as in Word. You'll have to open the menu, then move over the screen, use the function, and hide the menu.
Google Docs: compact mode.
By the way, Docs have a full-screen mode that hides all controls. It is a godsend for small screens!
Google Docs: full-screen mode.
Document view with the default settings.
Text editors are designed to make the document look decent and readable. You can achieve this with the help of format and paragraph settings. Of course the editors have their initial settings to make the document look good without spending user's time and effort. Besides, not every user knows the subtleties of typography and some need advice.
In order to estimate how useful the built-in styles can be, I dropped one of our posts into the editors and looked at the way they inherited native styles. The structure and the content of the document are quite trivial:
A title and a subtitle
4 paragraphs of text
A structured list with links
Heading 1
Heading 2
Some text
Numbered list
An image
An example of the document design with default settings.
| | |
| --- | --- |
| Word Online | Google Docs |
| | |
I don't think I need to say who does it better, the result is obvious. Everything is lumped together in Docs. Even though it is easy to improve the situation by changing the "Spacing" parameter, it's desirable for you to understand the principle behind the definition of spacing in the document, otherwise you will get unwanted blank areas, e.g. near the headings.
Generally speaking, this situation seems strange to me. There was space between the paragraphs and headings in Docs before, but it was too big. We even published an add-on with our own styles to make the process of applying styles easier. They fixed the spacing, but overdid it a little. :)
Overall, the documents created in Word look better, perhaps it is the result of long-term experience in this area.
Summary
Both editors are worthy of attention and they will certainly become better. At first glance it may seem that the author is disposed towards Word online. The design of its toolbar, its interactivity, and the ability to adapt depending on the content under your cursor make work easy. Built-in styles let you quickly draft a document that will look acceptable. By the way, I used Word to write this post. Nevertheless, I used Google Docs in the process because some functions are more convenient there. I'll give more detail about this in my next post "Creating and editing a document".
Anyway, the choice is yours, and it is difficult to make it without trying both solutions.
The next review
Creating and editing a document in detail. How to stylize the document and paragraphs (formatting). Document formalization: headers and footers, page numbers, footnotes, table of contents. The peculiarities of work with images, tables, and links. Spell-checking. Publishing: sending, printing, sharing.
You may also be interested in