The Split Names tool divides first, last, and middle names as well as salutations and titles from one cell into individual cells.
Before you start
The add-in doesn't process merged cells. If the selected range contains merged cells, the tool will notify you. We recommend either unmerging the cells beforehand or selecting a column without merged cells after starting the add-in.
How to split names into new columns
Start the Split Names tool
Run the tool by clicking the Split Names icon in the Text group on the Ablebits Data tab:


Or find the Split Names icon in the Transform group on the Ablebits Tools tab:


Separate names into columns
You will see the Split Names pane with the tool's options: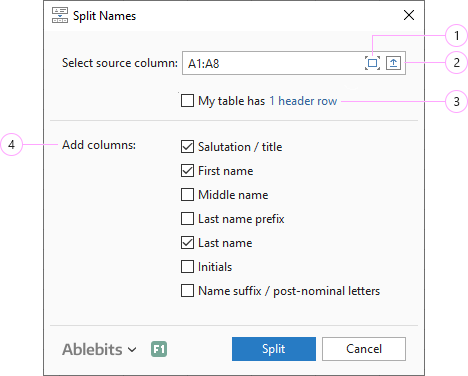 Click the Expand selection icon and have the entire column selected automatically.
Use the Select Range icon to change the selected column to another one:

If there's a header in the selected column, select the My table has 1 header row checkbox.

Tip.

If there are more header rows in your table, click

1 header row

, enter the number of header rows, and they won't be pulled apart:

Select the checkboxes with all the name parts you would like to see in new columns. The add-in recognizes over 80 kinds of Salutations / titles, First names, Middle names, Last name prefixes, Last names, Initials, and/or over 30 kinds of Name suffixes / post-nominal letters.
Click Split and get the columns with the selected name units inserted to the right of your original column.