Text tools from Ultimate Suite for Excel is a collection of utilities that are really good at trimming data imported from an external source. One of the handy features is the ability to change case in Excel.
Before you start
We care about your data. The add-in will back up your worksheet if you select the corresponding option.
How to change case of cell values
To run the tool, click the Change Case icon that you'll find in the Text group on the Ablebits Data tab in Excel:



You will see the Change Case pane: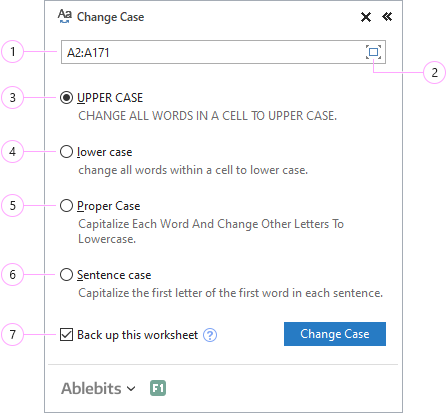 Select the range in Excel where you need to convert case.
If you need to get the whole table selected, click the Expand selection icon.
If you choose UPPER CASE, all the words within the selected cells will take upper case.
Select lower case to turn all cell values to lowercase.
Choose Proper Case to make the first letter of each word within a cell capital and all other letters lowercase.

Note.

If there are acronyms in your cells, only the first letter of the abbreviation will keep upper case with this option selected.

Make the first character in each sentence capital with the Sentence case option.
As you can't undo changes made by add-ins in Excel, we recommend choosing to Back up this worksheet.
Tip.
You can run any of these options right away by clicking the arrow below the add-in's icon and picking the necessary option from the dropdown menu: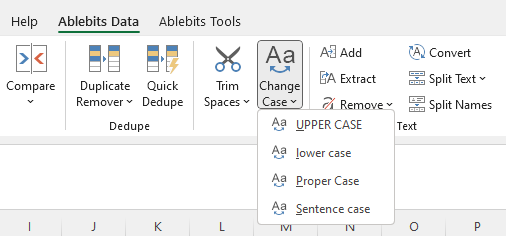 Click the Change Case button to apply changes to the selected range.
Note. If you want only the first letter in your sentences to be capital and you're sure that there are no names and abbreviations there, process your data selecting lower case first, and then process it again applying the Sentence case option.