On this page, you will find the step-by-step instructions on how to work with the Quick Dedupe tool.
Video: Remove dupes in Excel quickly
Before you start
Keep an eye on the Backup the worksheet option. We recommend selecting it as Excel doesn't let you cancel changes made by add-ins.
How to use Quick Dedupe
Start Quick Dedupe
Select the range you are going to dedupe or a single cell within a dataset to get the whole table highlighted by the add-in automatically.
Click the Quick Dedupe icon in the Dedupe group on the Ablebits Data tab:

Tweak the settings and get the result
You can see the Quick Dedupe window with its options: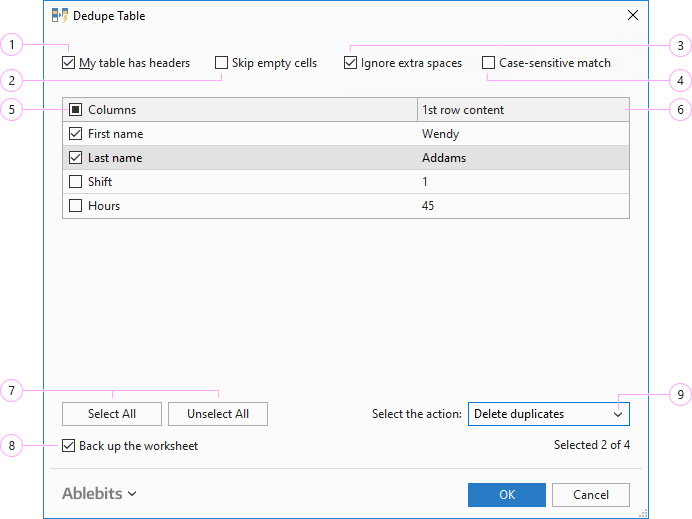 Check this box if you have header rows so that the needed columns are found easily.
If your table has empty cells, you can exclude them from the search by selecting this checkbox.
If you wish the add-in to disregard extra spaces, check Ignore extra spaces.
If you check Case-sensitive match, values which differ only in case (as, for example, "street" and "Street") will not be treated as duplicates. If you uncheck this option, such values will be identified as dupes.
Tick the columns that you want to dedupe in your table.

Note.

If you select more than one column, the add-in will look for duplicate rows. E.g. if you select 2 columns, only those records that have the same values in both columns will be considered dupes.

Look through the entries in 1st row content to make sure you've selected the right columns.
Click the Select All and Unselect All buttons to quickly select or deselect all columns.
We recommend keeping this box checked to have all your data saved - Excel won't let you cancel the results of deduplication.
Open the drop-down menu and choose how you want the add-in to process duplicates in your dataset:


Remove the rows with the found duplicates.
Change the background color of the duplicated rows.
Select the found duplicates.
Identify each duplicate row in a special Status column.
Copy the found dupes to a new spreadsheet.
Move the duplicates to a new worksheet.
Click OK and enjoy the result!