To delete unwanted text fragments all over any of your columns with ease, apply the Remove Substrings feature in Substring Tools. Just make a list of the substrings you need to erase, and the add-in will do the job.
Before you start
Take notice of the following:
Only one column is processed at a time.
Locate the substrings to be removed within one and the same column in an individual cell each.
The result is put in a neighboring column and your source data doesn't undergo any changes.
How to remove substrings
To run the Remove Substrings tool, click the Substring Tools icon on the Ablebits Data tab and select Remove Substrings: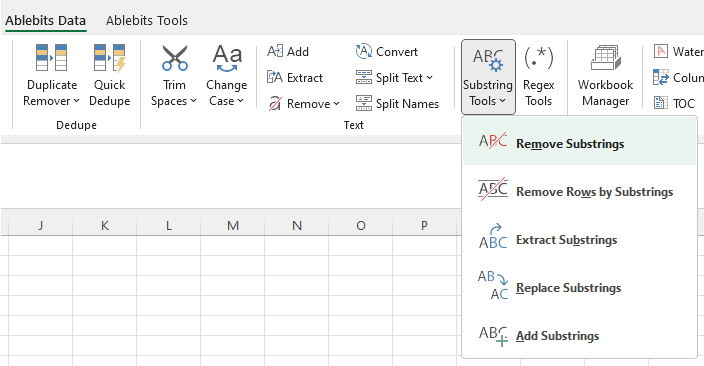 The tool pane appears: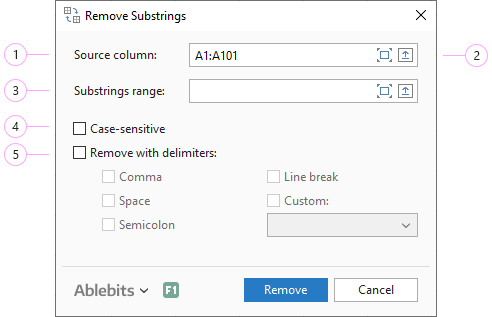 Select a column containing the data to be processed—the Source column.
Using the icons on the right side of the Source column box, you can select your current table column or any other column you need.
Select a column containing the substrings to be removed—the Substrings range.
If the search for substrings should be case-sensitive, pick the Case-sensitive option.
To delete not only the substrings of interest but also the delimiters that follow them, check off the Remove with delimiters option and either pick standard delimiters or type in your custom ones.
Here is the example: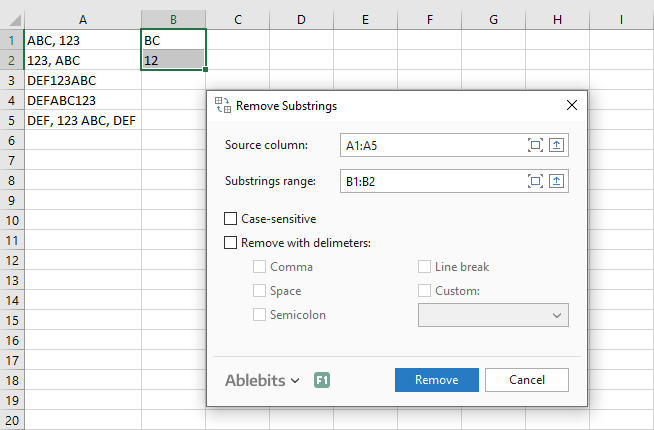 After you click the Remove button, your data is processed. The results are placed on the right of the source column and a summary message appears: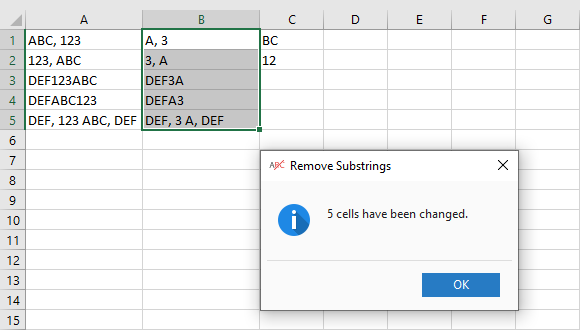 Note.
If, for example, you opt for removing "12" followed by a comma when processing strings like "12,100,12", the result will be "100," in this case:

Both "12," and "12" will be deleted because the end of a string is considered a delimiter.