Fill Blank Cells for Excel will copy the contents downwards or upwards from the first populated cell. You can specify if your table has headers or choose to split the merged cells.
Before you start
Keep an eye on the Backup the worksheet option. We always recommend selecting it as Excel doesn't let you cancel changes made by add-ins.
How to use Fill Blank Cells
Start Fill Blank Cells
Select the range in your table where you need to replicate cell values.
Tip.
If you click on any cell in your table and run the tool, it will select the entire table automatically.
Run the add-in by clicking the Fill Blank Cells icon in the Transform group on the Ablebits Tools tab:


Fill blanks upwards or downwards
You can see the Fill Blank Cells dialogue window and its elements: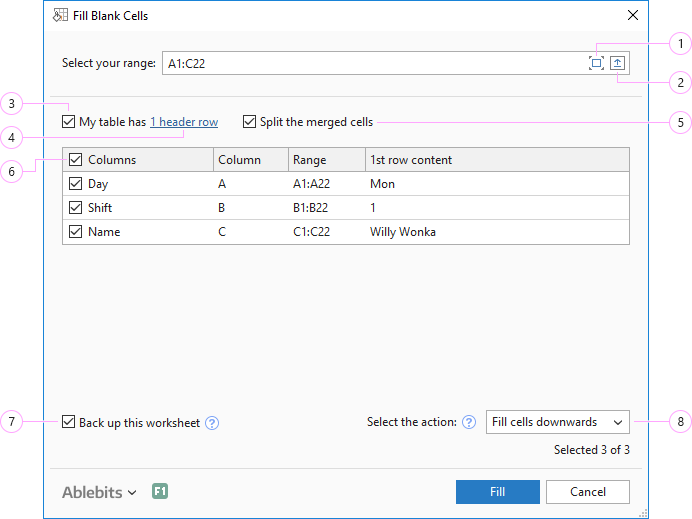 Make sure the range at the top of the window contains the cells you want to fill. To expand the selection and select the whole table, click the Expand range icon.
Also, you can edit the range manually or by clicking the Select Range icon and picking the necessary cells:

Check My table has 1 header row to indicate if your table has a label.
If you have more than one header row, click 1 header row and select the required number of header rows:

Tick Split the merged cells if there are such cells in your table and you want to get them unmerged.

Note.

If the selected area does not include merged cells, the checkbox is grayed out.

Check the boxes next to the columns where you want to fill blanks. If you have a lot of columns in your spreadsheet, use the checkbox at the top of the list to quickly select and unselect them all at once.
We recommend selecting the Back up this worksheet option to keep a copy of your source table.
Pick the way to fill cells in the selected columns:


Choose to Fill cells downwards if you wish to take the value from the cell above and copy it into the blank cells below:

If you want to fill gaps with the value of the cell below, pick Fill cells upwards in the dropdown list:

Click Fill to get all the blank cells in the chosen range filled with the values from above or below.