Let's continue our series of tutorials about images in Shared Email Templates and check out a few more quick ways to insert them in your Outlook messages. You'll see the pros and cons of each method, compare them and decide which one is a better option for you.
As you may recall from my previous manuals, our Shared Templates tool may help you add pictures to Outlook messages from online storages such as OneDrive and SharePoint. Although it is pretty simple, some of you may think there are too many steps to take to get just one image pasted.
So, today I'll show you how to add a picture to Outlook email body from the Internet and paste an image right from your clipboard. No shared folders, permissions, and logging ins. Just a link and a picture. It's a piece of cake!
About Shared Email Templates
First off, I'd like to drop a few lines about Shared Email Templates for those who are not acquainted with our new add-in yet. We've created this tool to save your time and help you write and send emails quickly and effortlessly. It's not just words.
Imagine this: you released a new product, and all your customers have one and the same question - how is it better than your previous product and how does it differ from it? Let's see your options:
You may reply personally to everyone by writing the same things in different words over and over again.
You may create a sample response and copy it from some document to paste in an email restoring the formatting, hyperlinks and images manually.
Or you may start Shared Email Templates, select the pre-saved template and paste it. A few clicks and your email is ready to be sent. A few clicks and the work is done.
All you need to do is to create a template. Shared Email Templates will do the rest :) In one click of a mouse you'll embed a perfectly formatted text with all the necessary hyperlinks and images preserved. And if you're part of a team and want the others to use your phrases too, there will be no problem at all!
Now let's get back to pictures and their pasting in an email with the help of Shared Email Templates. As this is our new Outlook add-in, I'd like to spread the word about it and send out a few emails to my friends who might be interested. So, I'll write some text, apply some coloring, create a link so that my friends don't have to google it. Then I'll have a look at my text and realize. It's a little bit dull to read the text without images. Pictures are catchy and give a visual image of your thoughts. So, I'll embed a picture to make my message complete and informative. Now I like what I see :)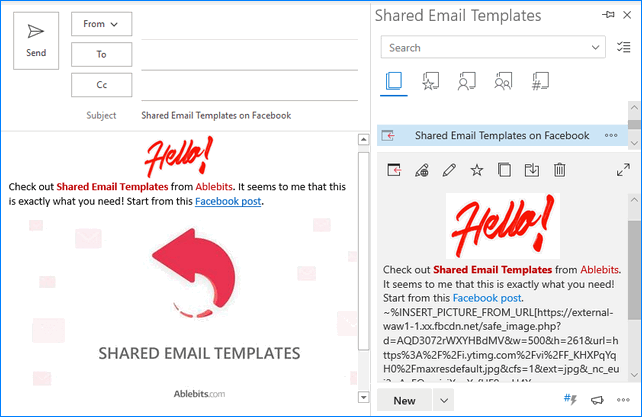 Since I'm not a magician, I'll eagerly reveal to you the "secret" of creating a template with pictures ;)

Insert image to Outlook message from URL
I'm going to devote this chapter to one more way to place images in Shared Email Templates. There is no need to create a folder in a cloud-based location, no need to keep the sharing options and your teammates' emails in mind. You just need a link to the picture. That's it. Just a link. No kidding :)
Let me show you the ~%INSERT_PICTURE_FROM_URL[] macro. As you may get from its name, it helps you put a picture on your Outlook emails from the URL. Let's go step-by-step:
Run Shared Email Templates and start creating a template.
Click on the Insert macro icon and choose ~%INSERT_PICTURE_FROM_URL[] from the list:
The macro will ask you for the link and size of the image to insert. Here you may also set the width and length of your image or leave it as is:

Note. Your picture should be of one of the following formats: .png, .gif, .bmp, .dib, .jpg, .jpe, .jfif, .jpeg., otherwise the macro will fail to work.
Tip. We recommend leaving the "As a hidden attachment" option checked so that your recipients could see the image regardless of their email client and its settings.
Let me show you how the ~%INSERT_PICTURE_FROM_URL[] macro works. For instance, I want to send a link to the Facebook post on the Ablebits page and add a photo so that it looks nice. Because why not? :) So, I find the necessary post, get its link by clicking on its timestamp, then right-click on the image and copy its address for the macro. Here is what I'll get: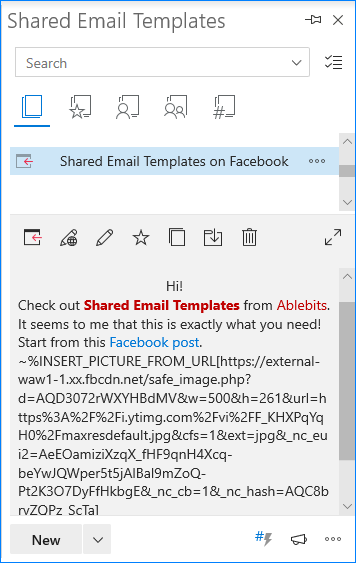 However, I expect the picture to be pasted below the text for my message to look lovely. And it does!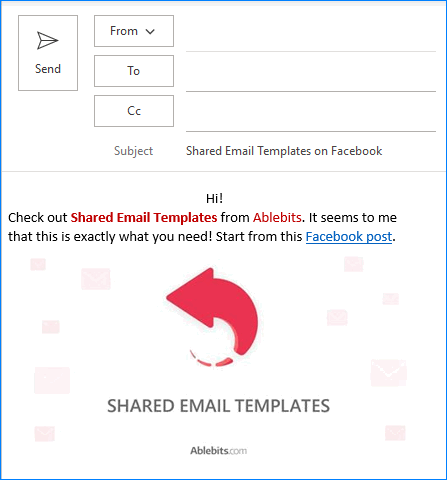 Note. There are all kinds of URLs on the Internet. The link you use should lead to a downloadable picture. You see, the add-in needs to download an image in order to paste it in your email. If you've got confused by the word "downloadable" and don't know how to check your image for the "downloadability", right-click on it and check if the "Save image as…" option is available. If so, your image can be downloaded and will work perfectly for the macro.
All the others in your team who'd like to use the same template and paste the same image won't face any issues. It'll work perfectly for everyone, no extra steps needed.

Add picture to Outlook email from clipboard
There is one more way to add a photo in Outlook. You'll be surprised how obvious it is! You may add a picture by… copying and pasting it into your template :) You may insert an image of any format, but its size shouldn't exceed 64 Kb. This is the one and only limitation you'll face.
Just browse for your file, open it in any image editor you have and copy it right from there. Then simply paste it in your template, it'll look like that: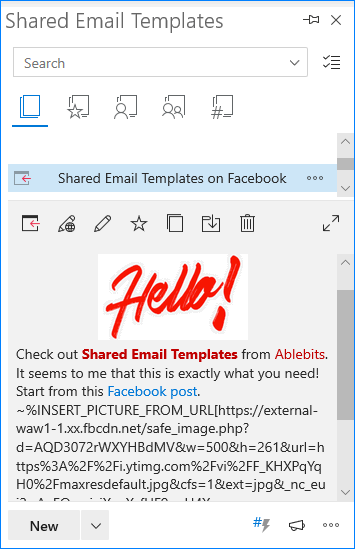 Tip. You may also drag and drop this picture right from your File Explorer into the template body.
Once I replaced my greeting with a bright picture, my message became less casual. That's exactly what I was aiming for!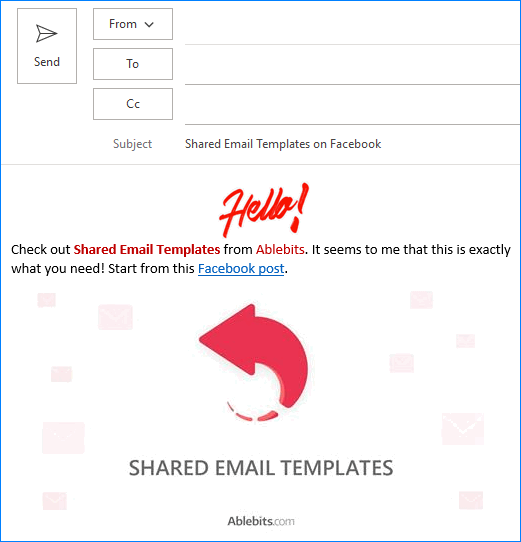 The main advantage of this method is the possibility to see the picture itself, not the macro with a random set of characters, and be sure to add the right image. However, due to the 64 Kb limit, only small images can be pasted this way. If you overcome this limit, you'll get the following error message: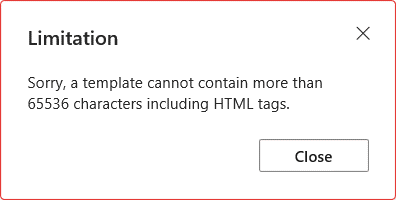 In this case you'll need to look through our manuals on this topic and choose another way to add an image.
Those were two ways to add a picture to Outlook emails. In case you missed my previous tutorials on how to embed an image from OneDrive or insert an image from SharePoint, check them out as well and choose the method that works better for you.
If you wish to automatically add an image depending on the current user, you can find the steps in this article: How to create dynamic Outlook template for current user.
And when you decide to switch from theory to practice, just install Shared Email Templates from Microsoft Store and give it a go :)

If you have any questions or, maybe, suggestions on how to make our Shared Email Templates even better, please leave your thoughts in the Comments section ;)
You may also be interested in