Video: how to change case in Google Sheets
When it comes to changing cases in Google Sheets, formulas are hardly the best option. Come take a look at a small utility that changes cases in your entire selection on the fly.

Video transcript: Change Case add-on for Google Sheets
Change case for Google Sheets is a formula-free solution to capitalize and lower letters in spreadsheets in 5 different ways. Whether your cells contain single words or entire sentences, this tool will quickly change case in your Google Sheets.
It will:
convert all uppercase letters into lowercase and vice versa at the same time — tOOGLE
capitalize every single letter so the entire text is in UPPERCASE
turn everything to lowercase
make only the first character of a cell capital — Sentence case.
or capitalize the first letter of all words — Proper Case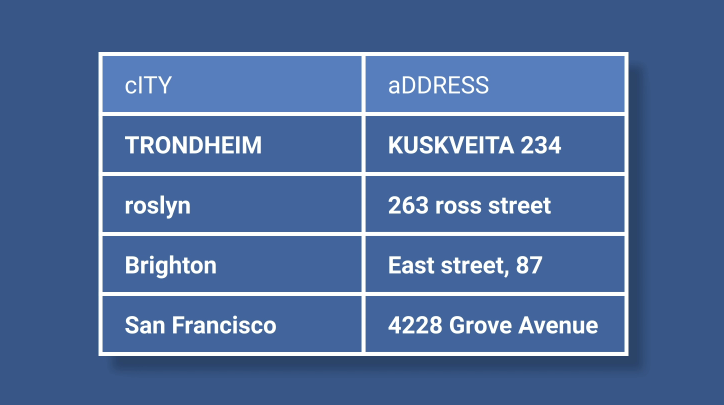 No matter the option, it takes only a couple of mouse-clicks to get there. Let me show you what I mean directly in spreadsheets.
How to use Change Case (from Power Tools)
I have a table of randomly generated customers and their orders. The Product column has only text while Addresses has both text and numbers.
So let's run Power Tools. You can change the case right from this Quick actions menu, but I'd like to show you the add-on itself. I start Power Tools, open the Text group > Modify tool, and get to the Change case right away.
There are 5 options, and the way they're written also hints at how they change case: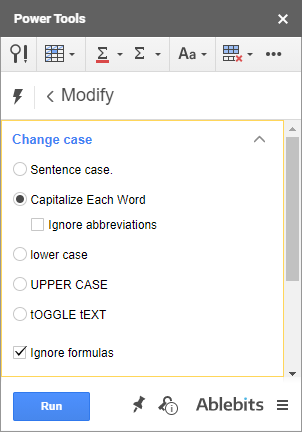 Let me just select the columns where I want to change the text case, and we'll go through the options:
I don't have formulas so I don't select this setting (Ignore formulas), and choose to toggle the text first.
See? All letters in my selection have been reverted: upper into lower and lower into upper.
The next one is Uppercase. Once I run it, it capitalizes all words and all letters within the selection.
In a similar manner, I can lower every single letter using the lowercase
If I want to capitalize only the first letter in all words, I choose the respective setting: Capitalize Each Word. If you keep this checkbox empty (Ignore abbreviations), the Change case add-on will also lower all other letters.
Last but not least is the Sentence case: it capitalizes only the very first letters in cells. I run it and it looks like nothing happens. But in fact, it simply doesn't lower other letters — they are kept intact in case there are names or abbreviations. To lower them anyway, I need to lower everything first — and then apply the Sentence case.
That's it. That's how the Change case add-on processes your entire table in a matter of seconds.
Install Power Tools from the Google Sheets store and master changing cases on your own.
Should you have any questions, please don't hesitate and contact us, we'll be happy to help.
You may also be interested in: