Customize your Outlook Calendar so that it's all about YOU!
Have you ever opened Outlook and suddenly felt... bored? Bored with the look and feel that you get with its presets? You don't have to feel like that anymore!
There is a way to customize your Outlook so it works the way YOU want it to work. How...? Well I'm glad you asked :-).
Outlook Calendar Options
Let's look at the Options menu since this is a one-stop-shop for changing the way we will work with Calendar. On the File tab click on Options.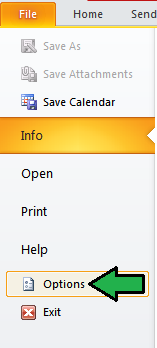 Then click on Calendar. This will open a window and THAT'S where all the fun is!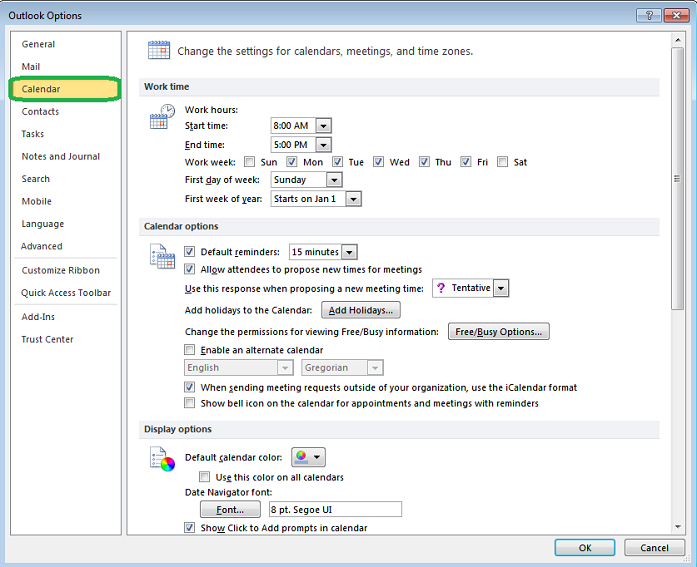 Some key point on this page...
Set your work time and hours so when people look at your calendar they'll know if you're in.
Default reminders - set how much of a reminder you want on your calendar activity.
Instantly add all the holidays (based on the country you live in - how's that for personalized!)
Default calendar color - change the color of each of your calendars (I love the pink and purple one!)
Font - change the font of your calendars (perhaps something bigger and in a different font)
There are so many more ways to change your default settings. It's just a matter of what suits you best and how much you want to change... feel free to explore the possibilities!
Below is the continuation of the Outlook menu.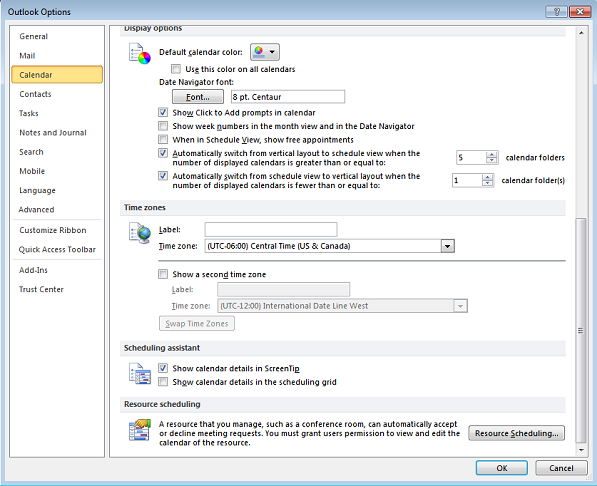 How do you like to see your calendar?
Now that we've customized our options we can take a look at how to get to really customizing how we view our calendar.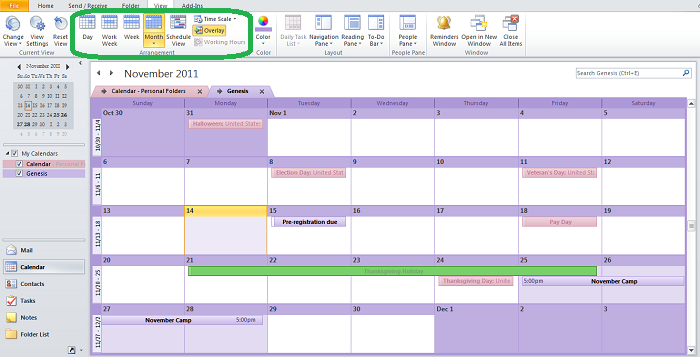 Let's take a look at the toolbar. You can change how you currently look at the calendar by clicking on the Change View, View Settings, and Reset View button. Remember, if you see an arrow at the bottom of the button there is more hidden treasure when you click on it... which means more ways to make it all your own! Click away!
On the Arrangements (which is one of my personal favorite toolbars), you can look at the calendar based on different criteria: one day at a time (great if you have a lot of appointments), work week (gives an overview based on the work week that was set on the options), and by month (I like to use this because I want to see what needs to be done not just today but I want to see what's upcoming also).
One of the buttons I think is rather useful is the Overlay button. This will place the calendars over each other and consolidates them but still keeps the color scheme so you know which task/appointment belongs to which calendar. An overlaid calendar will look like the one below. Did you notice that the pink calendar appointments and the purple ones are all on the same now?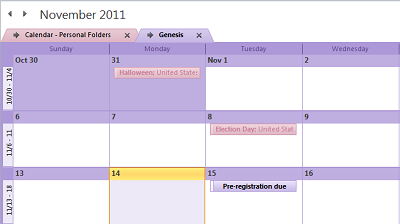 Let's talk about color! Are you tired of the colors on your calendar and want something a little more your style? I like personalizing it so that it isn't so drab. And if I'm feeling sassy I'll change it with the seasons... I like pretty colors! If you want to change the colors of calendars click on color and Viola! So many choices!!! :-)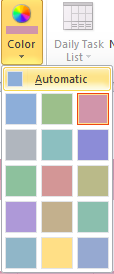 Let's talk about the Layout menu. Just the way you can change the Navigation bars on your Outlook mail view, you can do the same for the Calendar. Navigation Pane allows you to minimize the menu on the left or remove it completely. The Reading Pane gives you the option of showing your notes. The To-Do bar can either be on the right of the Calendar or minimized. I think this is also a useful tool which gives an overview of upcoming events/appointments/holidays.
The last thing I want to go over when customizing how you view your calendar is the on the left side on the Navigation Bar. See where it says My Calendars? This is where all your calendars are. On my home computers I have a personal calendar and one named Genesis. (My son is part of professional march drum corp so I have to keep up with his camps, trainings, and summer tour.) Now, at work I have these two and I also keep one for my boss' appointments as well as a copy of each of my co-worker's calendars for a total of about seven calendars. That's a lot to keep up with and I don't always want to see all of those calendars up at once. You can click on the ones you want to see. This helps keep it from getting cluttered and viewing only what you want at any given point.
Sharing Calendars
As I mentioned above, my co-workers and I all share our calendars so we know when and what we are doing at all times. This is especially helpful when we have to take time off in the summer since we all take it at staggered times. You choose which calendars you want to share. I usually share the one where my personal schedule and appointments are set.
Place your cursor on the title of the calendar you'd like to share and right-click or you can click on Email Calendar from the Home Menu. (Below is the right-click menu which gives you some awesome quick-click options for customizing your view.)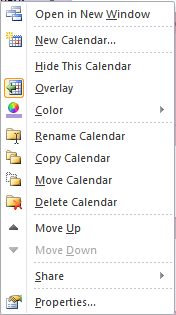 Place your cursor on Share and click on Email Calendar. You can choose just how much of your calendar you'd like to share (a month, next week, your whole calendar, etc.). You can also choose which calendar you'd like to share. I encourage you to click on all of the buttons to familiarize yourself with this option.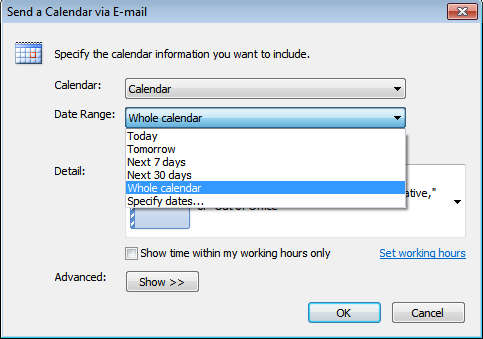 Once you've decided what you want to send, click on OK.
Your calendar is now in an email and ready to send off to anyone... your office co-workers, your boss, your family, ANYONE!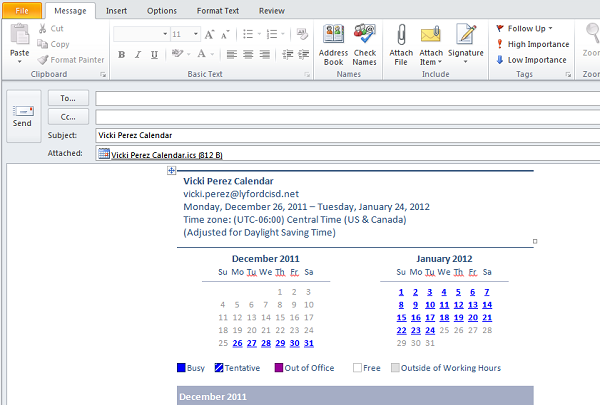 Once the recipient has accepted your calendar they will now have it on their navigation and calendar view.
Printing the Easy Way!
You now have our calendar that is totally YOURS. It looks like you want it to, it shows only what you want it to show, and it works to your advantage. Let's print your calendar... but not just anyway... how about if we print it how YOU want to print it?! Microsoft has a free add-in that allows you to customize the way your calendar is printed. Microsoft Outlook Printing Assistant is a quick download that interfaces with your Outlook Calendar and gives you a wide range of options when printing.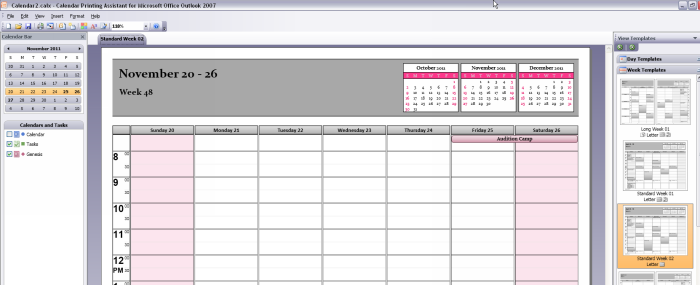 You can select which calendars you want included for your print. Change the format to view your day, week (which is what I chose), monthly schedule, or your yearly calendar. If that's not enough, you can change the color scheme (of course I chose pink!), change the font, and you can even change the paper size.
Wow... there are so many things we can do with the calendar. The purpose of this article is to help you customize it to make it your own and to make your calendar work for YOU. Work doesn't feel like work when you take a little time to make your calendar look fun; whether it's changing the font, the color of the calendar, or the way you view it... from that point on you'll know for sure that the calendar is ALL YOU!
Enjoy!
See also