Opt for this option if you want to insert the result as a formula so if the value in your selected cell changes the spelled result would change too. Besides, if you've got a column with numbers, you can simply drag down the formula to get them all spelled.

Note. Please note, the formula will be custom user-defined, and if the workbook is opened on another machine without Ultimate Suite for Excel installed, the result may be lost.

The function arguments are the following: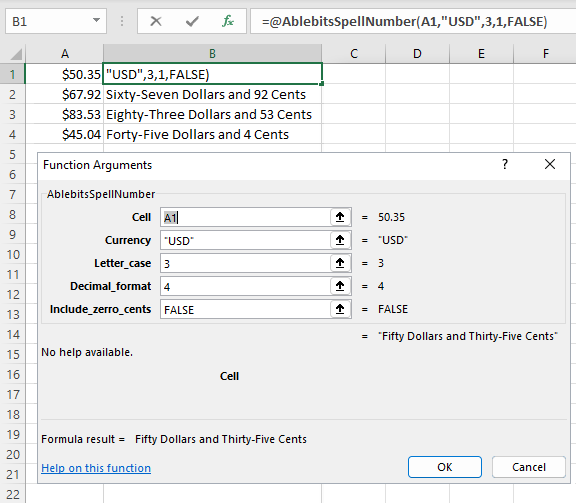 LetterCase
0 – "lower case"
1 – "Sentence case"
2 – "UPPER CASE"
3 – "Title Case"
DecimalFormat
0 – "None"
1 – "and 10 cents"
2 – "point 10 cents"
3 – "= 10 cents"
4 – "and ten cents"
5 – "point ten cents"
As for Currency, the value that you selected is automatically put into the formula. However, if you need currency that is not in the list, you can manually enter any other value into the formula in the following format:
=AblebitsSpellNumber(A1,"currency name in singular form,currency name in plural form;coin name in singular form,coin name in plural form",3,1,FALSE)
For example, if you need Hungarian forint, the formula may look like this:
=AblebitsSpellNumber(A1,"forint,forints;fillér,fillérs",3,1,FALSE)

forint and forints are for the currency name for singular and plural values; fillér and fillérs are for coins–singular and plural.