What subscription plans do you have for Shared Email Templates?
To meet your needs and offer the best solution, we developed several subscription plans. You can use Shared Email Templates during 60 days for free within the Free Trial plan and consider choosing one of the paid plans. For more information, please visit the Shared Email Templates subscription plans page.
How many users are covered by a subscription?
A Shared Email Templates subscription is user-based. Each user should have a subscription. A subscription can be activated under one Shared Email Templates account at a time.
Tip.
To obtain multiple subscriptions with one payment, simply change the corresponding number on the order page: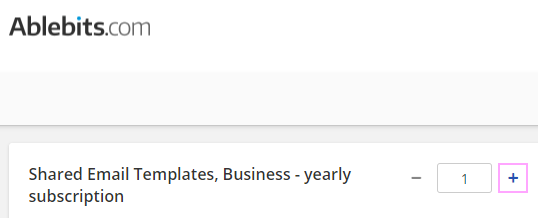 On how many devices can I use Shared Email Templates?
The number of devices on which you can use Shared Email Templates is not limited. However, the number of client apps running simultaneously can't exceed 4. You can have several client apps on one device, e.g. Outlook Online in your Chrome and desktop Outlook can be connected simultaneously and are treated as two separate client apps. You can find other terms and conditions in the Terms of Use for Shared Email Templates.
How to transfer my subscription to another user/account?
Run Shared Email Templates.
Click the three dots in the bottom right corner of the pane and select Profile.
In the My License section, you'll see your subscription details. Make sure to copy your subscription key and then click Deactivate.
Start Shared Email Templates under another account and activate the add-in with your key.
Note.
You won't see the
Deactivate
button under
My License
if:
Your subscription is almost expired.
Or, you have a company account. For assistance with a company's subscription, please contact your company's administrator.
How to deploy Shared Email Templates for a group of users? Is there corporate deployment?
To deploy Shared Email Templates for a group of users, follow these instructions: How to deploy Shared Email Templates