On this page, you'll find typical problems with antiviruses and ways to solve them.
The add-in cannot load one of its dlls
After installation, you may receive the following disturbing message:



Despite the fact that our certificates are trusted, sometimes due to some reasons some antiviruses may block Ablebits. In such cases, you may get this message. Please go to Quarantine in your antivirus and restore all the Ablebits files you find there.
Besides, the cause of the problem may be enabled Preview Pane, so please disable it and try to install the add-in again.
Finally, you may not have the necessary permissions to run executable files from the installation folder. Consult your system administrator. If this doesn't help, please contact us at support@ablebits.com. We will do our best to help you solve the problem.
Windows protected your PC
This is the message you may get after you have downloaded our product and are trying to install it:


Please don't be scared, everything is Okay. Simply click the More Info link, and you will see this:


And then, hit Run Anyway.
How to check that the certificate is valid
We publish our distributables in zip files. Please do not open a zip file directly in Windows Explorer. Instead, right-click it, and select Extract All... from the context menu. Then, switch to the Digital Signature tab of setup.exe Properties, select either signature, and click Details: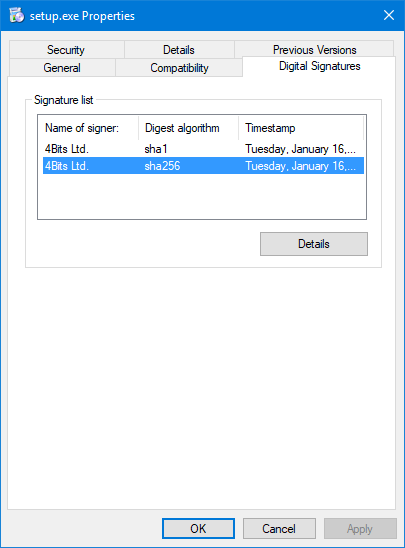 Now, click the View Certificate button:


And you will see the general information about the certificate: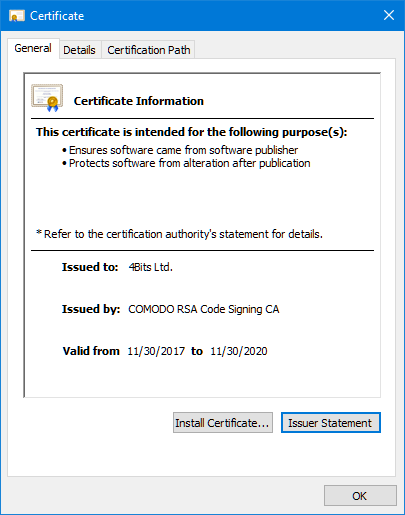 On the Certification Path tab, select 4Bits Ltd. certificate:


And make sure that the cert is valid.
The certificate and antiviruses
Also, some antivirus software may not allow running our setup.exe (or msi) because our certificate is not familiar to them. If your antivirus has blocked our product, please contact our support service at support@ablebits.com and we will promptly help you.