The Watermark add-in for Excel makes the process of inserting text and picture watermarks into your spreadsheets really simple and straightforward. Here you'll find the instructions on how to create, add, edit, and remove watermarks in your Excel files.
How to use the Watermark tool
Start the tool
Run the add-in by clicking the Watermarks icon in the Manage group on the Ablebits Data tab:


Insert default watermarks
Once the add-in is running, you'll see its pane with several predefined watermarks: Confidential, Do not copy, Draft, and Sample: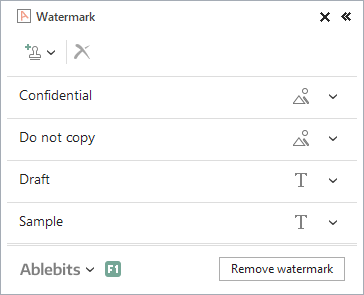 The first two are picture watermarks, while the last two are textual. You can expand the group with any existing mark, edit the way it looks, and click the Insert button to place it into your sheet.
Create and insert custom watermark
You can also create a watermark in Excel from scratch:
Click the New watermark icon and choose to create either New Text Watermark or New Picture Watermark. Once picked, it will appear as another group at the bottom of the list of watermarks on the add-in pane.
Specify a name for the new item in the Watermark name field:

Configure the settings of the new watermark:

If you choose to create a text watermark, enter your text in the Watermark text field and define its font, size, and color. Select the Diagonal checkbox to place your watermark text across the page.
If you decide to add a picture watermark, click Browse to find the necessary image on your PC. Select the Transparent checkbox if you want to make your watermark less noticeable.
Once the watermark is chosen and its settings are adjusted, click the Insert button to add the watermark to your Excel worksheet.
Tip.
Your newly inserted watermark will be automatically saved in the list on the add-in pane.
How to work with watermarks
Edit your watermarks
You can easily edit a watermark by expanding it in the list and changing its settings.
Depending on the watermark type (picture or text), you'll be offered to edit different settings:
If you choose to modify a picture watermark, you'll be able to select another image for it. It will also be possible to make the watermark transparent.

Note.

If you change a default watermark picture, the name of the default watermark will be changed into the name of the image.

If you decide to change a text watermark, you'll be offered to enter its name and text, pick a font, its size, and color. Also, you'll be able to place it diagonally if you want.
Remove your watermarks
You can delete a watermark from the list by clicking the Delete watermark icon at the top of the pane.
To remove a watermark from your Excel file, click the Remove watermark button at the bottom of the pane.