Merge duplicate rows in Excel
Combine similar rows into one by key columns
With Merge Duplicates Wizard for Excel, you can quickly combine duplicate rows into one without losing any data. Just specify one or more key columns, select the delimiter of your choosing, and have unique entries concatenated in appropriate cells.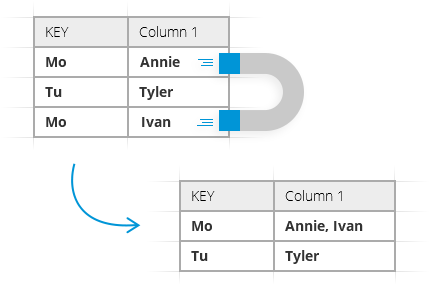 With Merge Duplicates Wizard you will
Combine duplicate rows by key columns

Select any columns as unique identifiers to merge duplicates in your Excel worksheet.

Select the delimiters for the merged values

The merged values can be separated by semicolon, comma, space, line break, or any other symbol of your choice.

Merge only unique values

Delete duplicate values and skip empty cells to get a clear worksheet without any repeated entries.

Choose different delimiters for each column

Pick one of the predefined delimiters or insert yours to separate the values differently in each column.
How to merge duplicate rows in Excel
Merge duplicate rows in 3 short steps
Combine the repeated values simply and quickly
2

Choose one or more key columns

4

Enjoy the new worksheet

with merged duplicates

3

Choose the columns with values to merge and set delimiters
License benefits
Our customers get
Unconditional 30-day money-back guarantee

Secure payment
guarantee

Life-time license,
no additional fees ever

Volume discounts: the more you buy, the less you pay

1 license
for 2 computers

Free life-time support
Buy now
Frequently asked questions
About Merge Duplicates Wizard
Supported versions
Excel

Excel 2019
Excel 2016
Excel 2013
Excel 2010
Excel 2007
32-bit and 64-bit
Desktop Excel included in Office 365
Desktop Excel included in Office 365 ProPlus

Windows

Windows 10
Windows 8.1
Windows 8
Windows 7
32-bit and 64-bit
Free download
7-day trial version
Any questions or comments?
Please contact us here