Search for duplicates in two Excel tables
Compare two columns or lists for matches and differences
Compare Tables for Excel provides a fast way to find duplicates and unique values in any two data sets: tables, columns, or lists. The tool can search for matches and differences by one or several key columns. Once the duplicates are found, you can select or highlight them, copy or move to another location, or delete all dupes at once.
Learn more
This tool is part of
Ultimate Suite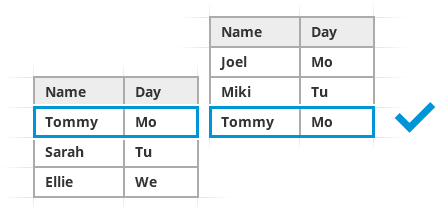 With Compare Tables for Excel you will
Search for duplicate or unique values

Compare two columns, lists, or tables in Excel for matches and differences.

Select one or more columns for comparison

Check two lists for duplicate rows by comparing values in one or several key columns.

Remove duplicates in Excel sheets

Deduplicate your worksheet by removing all repeated values or duplicate rows at a time.

Highlight matches and differences

Highlight duplicates and unique values with any color of your choosing.

Copy or move duplicate records

Move duplicate entries or copy unique values to a new worksheet or workbook.

Identify matches and differences

Insert a status column that marks each row as "Duplicate" or "Unique".

Select unique or duplicate cells

To find out how many duplicates are in your table, just get them selected.

Compare two tables no matter their size

Compare two tables with a different number of columns and up to one million rows.
How to compare two sheets, lists or columns in Excel
Video: how to compare Excel worksheets for matches and differences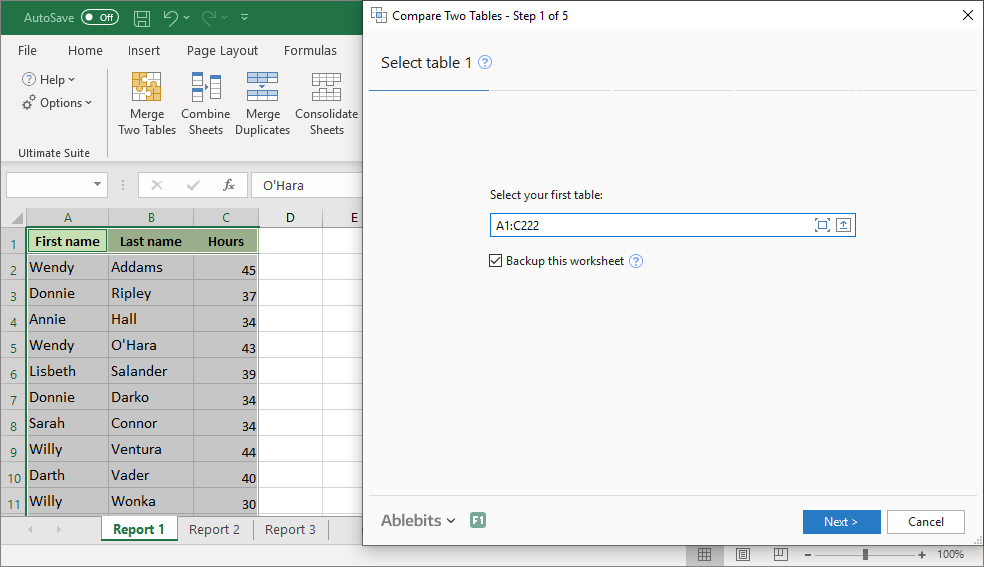 Select your main table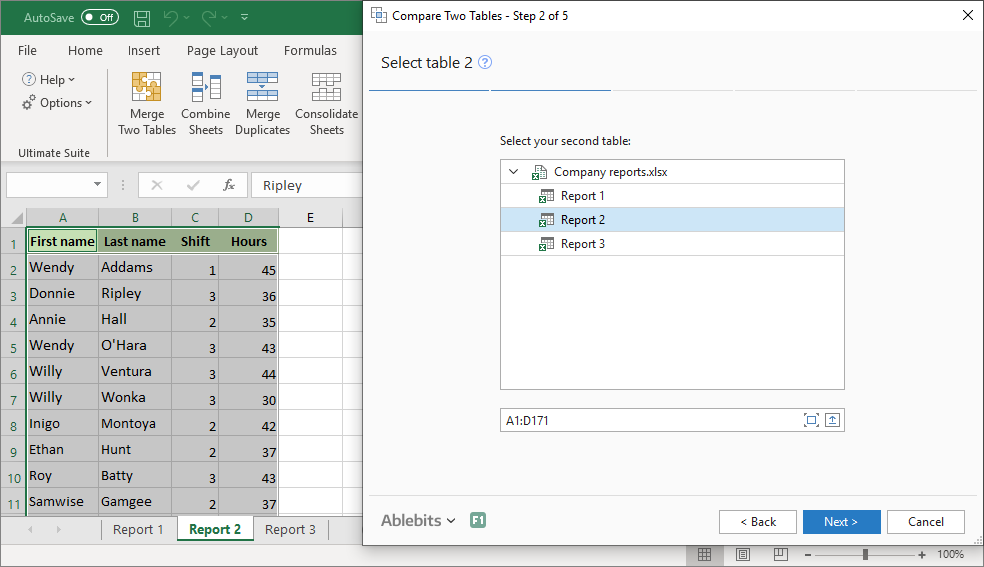 Select the second table to compare it with the main one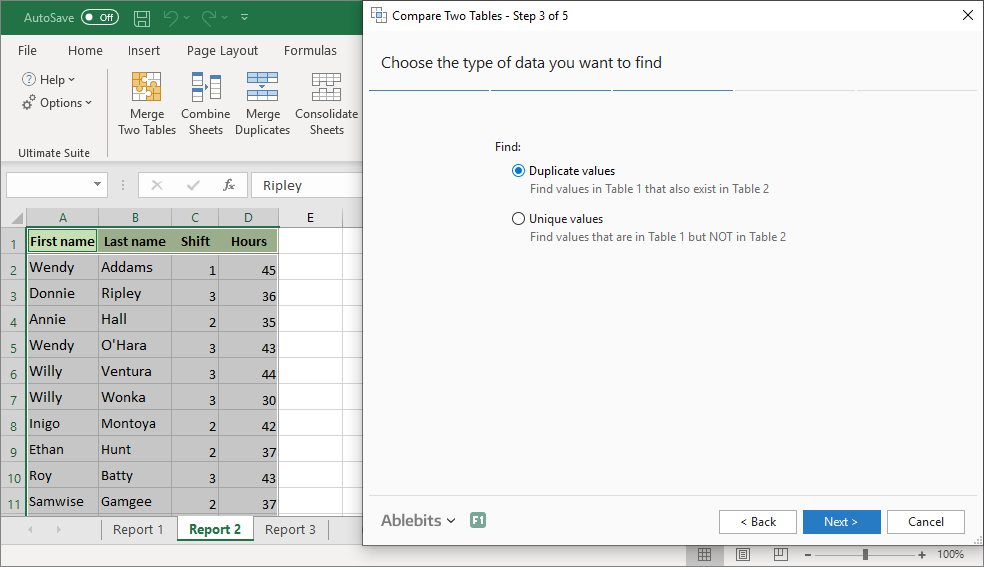 Choose to find duplicates or unique values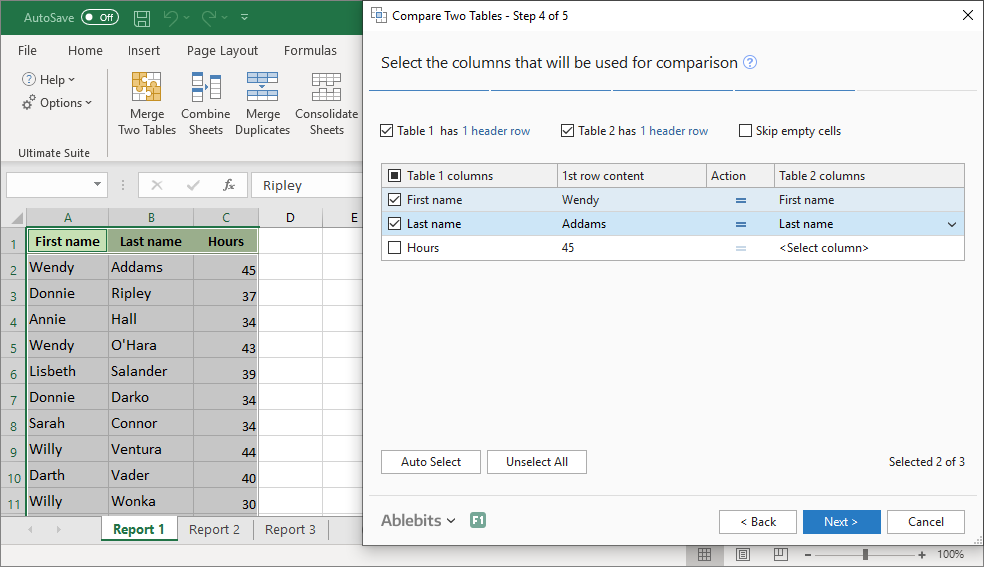 Select the key columns for comparison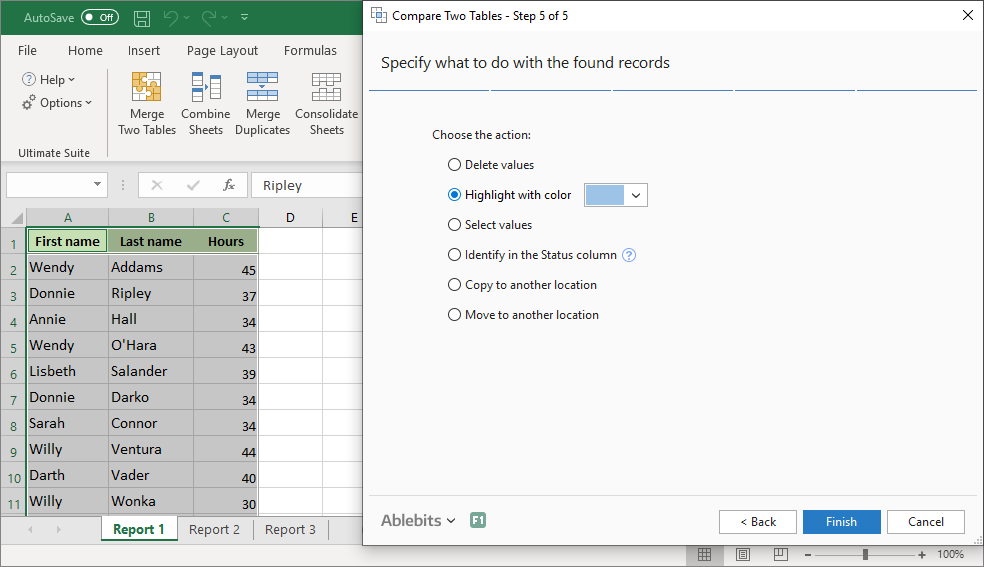 Choose what to do with the found entries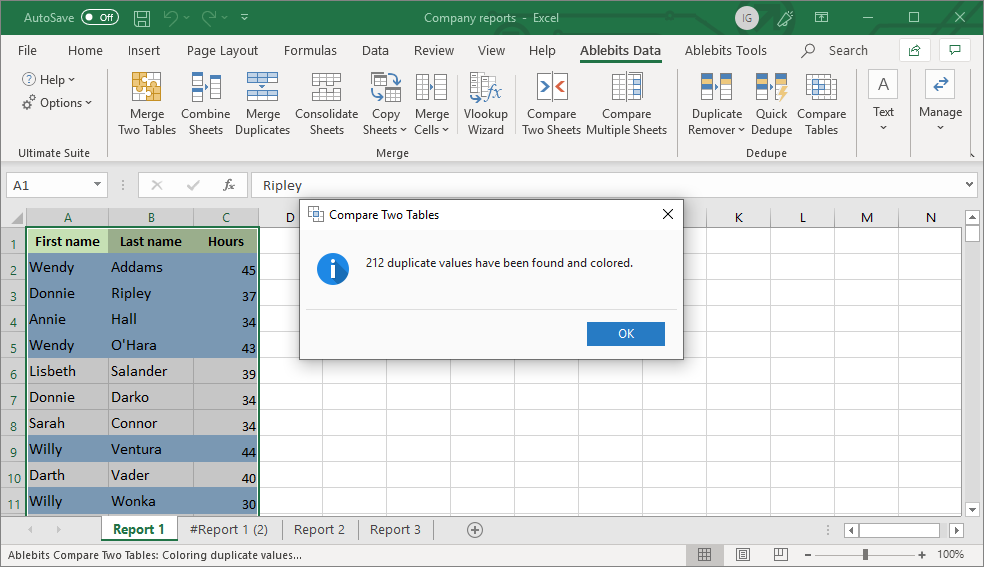 Two tables are compared, duplicate rows are found
License benefits
Our customers get
Unconditional 30-day money-back guarantee

Secure payment
guarantee

Life-time license,
no additional fees ever

Volume discounts: the more you buy, the less you pay

1 license
for 2 computers

Free life-time support
Frequently asked questions
About the Compare Tables tool in Excel
Any questions or comments?
Please contact us here