Split Text to Columns in Excel online
Divide text into several columns by any delimiters
This simple add-in for Office 365 will help you automate splitting text across multiple columns. Whenever you want to divide parts of addresses or pull out product details into separate columns, run the Split Text to Columns tool. You can detach words by any standard or custom character.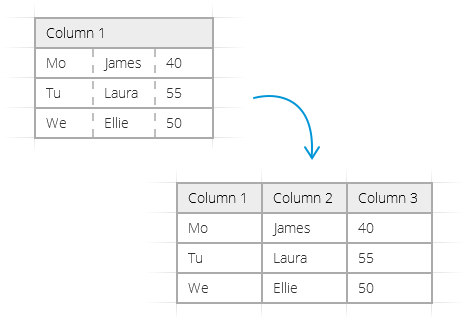 With Split Text to Columns for Excel online you will
Divide text into several columns

Split your data according to the delimiters you choose.

Choose characters to use as delimiters

Select from the list of standard separators or enter your own one.
Split text to columns in Office 365
License benefits
Our customers get
Unconditional 30-day money-back guarantee

Secure payment
guarantee

Life-time license,
no additional fees ever

Volume discounts: the more you buy, the less you pay

1 license
for 2 computers

Free life-time support
Buy now
Frequently asked questions
Supported versions
Excel

Excel 2019
Excel 2016
Excel 2013
Excel 2010
Excel 2007
32-bit and 64-bit
Desktop Excel included in Office 365
Desktop Excel included in Office 365 ProPlus

Windows

Windows 10
Windows 8.1
Windows 8
Windows 7
32-bit and 64-bit
Free download
7-day trial version
Any questions or comments?
Please contact us here