If you try to install a new Ablebits add-in for Outlook when an older version of the product is already installed on your machine, you may face a problem with Windows Installer Package. In the majority of cases, this may happen because the .msi file was lost or the add-in file was deleted or renamed. First of all, try to uninstall an old plug-in version via Control Panel instead of Apps & features in Windows 10. If for any reason it doesn't help and you still receive an error message, please follow the troubleshooting instructions on this page.
Uninstall via Control Panel
Close Microsoft Outlook.
Go to Start and open Control Panel.
Click on Programs:

Pick the Uninstall a program option:

You will see a list of all installed programs. Find the add-in you want to uninstall and double-click it.
Click Yes in the dialog window:


Note.

On this step, you may get the following message even though you have closed Outlook:

In this case (if you are sure you have closed all Outlook windows), do the following:

Right-click the Windows taskbar and select Task Manager:

Find Outlook in the displayed processes, right-click it and pick End Task:

Try to uninstall Ablebits for Outlook again.
If you can't remove the plug-in via Control Panel, delete the add-in registry branch.
Delete the add-in registry branch
If the problem is that the add-in can't be removed or the network source (.msi file) is not available, you'll see one of the following dialog messages: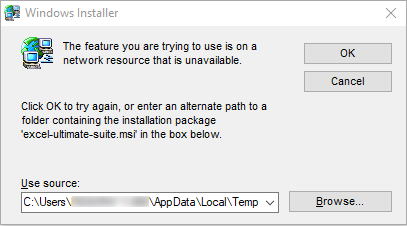 Take the following steps:
In Windows 10, close Outlook, click Start, and enter "regedit". Click Open:

When the Registry Editor window appears, search for the following registry branches:
Computer\HKEY_CURRENT_USER\Software\Add-in Express
and
Computer\HKEY_CURRENT_USER\Software\Ablebits

If you find one of them or both, delete them.
Then go to the Computer\HKEY_CURRENT_USER\Software\Microsoft\Installer\Products branch.

Check all folders in this branch, and if you find Ablebits or Add-in Express next to ProductName in a folder - remove the folder:


After that, go to Control Panel -> Programs and Features and make sure that you don't have Ablebits in the list. Then go to C:\Users\USER_NAME\AppData\Roaming\ and check that you don't have any files left in the Add-in Express and Ablebits folders. If there are some, please remove these folders.