Shared Email Templates is designed to let you avoid retyping the same messages and replies in Outlook. But what if you need to insert certain information into several templates you use? For instance, your email address, company name, social media accounts, etc. We've developed the Properties feature to make you avoid retyping/copy-pasting the same info in templates.
For each team and profile, you can create a set of named values and use them in your templates with the help of macros. Thus, instead of typing or copy-pasting commonly used information, you add it as properties to your profile or team and then simply add a macro with this property.
Note. You can create no more than 32 properties per team and profile.
Open the Properties window
You can create properties for your Shared Email Templates account and for each team you have. You can use the account properties in any template wherever it is located: in your private folders or in a team. But if you create a template in a team, you can use properties of this team only and not the others.
Profile Properties
To edit or create profile properties, click the three dots at the bottom-right corner of the app pane and select Profile: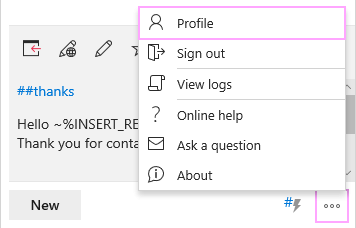 Click the Edit Properties icon:

Team Properties
To see the properties of your team or create new ones, stand on the team of interest and click the Edit Properties icon:

Create and edit properties
You can see the list of predefined properties of your account or team. You can edit the predefined team and profile properties.
To create a new property, click the Add Property button:

Enter the name and value of the new property: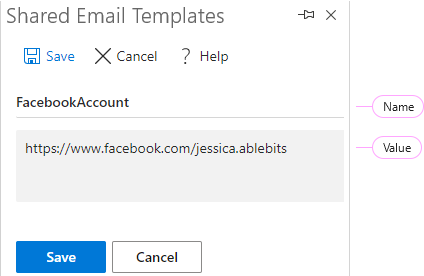 Tip. You can use HTML to format the properties the way you want.
Once you click the Save button, you'll see your new property in the Custom section. On the grey background, you can see the content of the property and Edit and Delete icons:

Insert properties into your templates
You can create up to 32 custom properties for your profile and each team and use them in your templates. Besides, you can insert your Outlook mailbox properties as well.
To get the mailbox, account, team properties inserted into your templates, you need to add the corresponding macro.
Open an existing template or create a new one and click Edit:

In the text of the template, place the cursor where you want to put a property, click the Insert Macro icon, and select the macro you want to use: