How to create professional email signature - tips and examples
On this page, you will find 15 easy tips to create an attractive professional email signature illustrated with examples. Also, we will have a closer look at 4 online HTML email signature generators that provide a collection of free email signature templates.
Research shows that an average office worker sends 30 - 40 emails daily. And do you know how many of those e-mails have a signature? Yep, every single one! Naturally, when you are doing something that often, you'd want to make it right. No wonder that so many people search for sample e-mail signatures every time they get a promotion, change jobs, or try to connect with a promising prospect.
On the web, you can find plenty of tips and a handful of email signature generators that let you create a personalized html e-mail signature based on a template. In this tutorial, we will have a closer look at 4 most popular online generators that provide a collection of free signature templates. But our primary focus will be on best practices and inspiring email signature examples to help you create a compelling professional email signature, which will be a small but vital part of building your business and brand identity.
Tips to create a professional email signature
If you ask me what makes a good email signature, I'd say it all boils down to the following. A professional email signature is concise but informative, it's not frilly but not plain either, it's simple but not dull or boring. Sounds like a tricky task? Then check out the following list of do's and don'ts that will help you avoid common mistakes and create a lovely attention-catching email signature.
1. Keep your email signature short and to the point
Don't include needless information in your signatures. Excessive details, links and quotes can make your signature look cumbersome, which will deter most people even from looking at it, let alone clicking your links.
Remember, your email signature is not your CV, so try to limit it to 3 - 4 lines of text. In most cases, all you really need is this:
Your name
Company name
Title
Phone number(s)
Web-site
If you are dealing with international recipients, don't forget to add an international prefix to your phone number, e.g. +1 (555) 123-4567.
Don't include anti-virus scanning verification or a legal disclaimer in your signature, unless absolutely required.
Here's an example of simple and elegant email signature design that puts all relevant information in the upfront, and is easily navigable.


2. Don't include your email address
Nearly in every email client, the sender's email address is displayed in the From field. If not, hovering the mouse over the sender's name will display it, or you can simply hit the Reply button like most people do.
So, including an email address in your signature is just a waste of space. It's like placing two return address labels on an envelope, or introducing yourself to someone when you first meet, and then doing it again right before you leave.
3. Add an image to your email signature to make it more personal
One of the online email signature generators claims that users who added a photo to their email signatures got 32% more replies to their emails! Can that really be true? Well, research shows that people remember images better then text, and the most memorable images are those that contain people. So, if you want to stand out from the crowd, consider including your photo in your signatures.
Just compare the following email signature example with its counterpart in Tip 1. One small change makes a big difference, uh?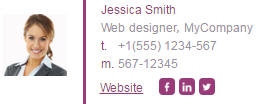 4. Don't use too many colors and fonts
Stay away from using too many colors, fancy fonts and overly small or large text size. By including a ton of different colors and fonts, you increase the risk of creating a tasteless and distracting email signature design. Just look at the below signature. What would you say about a person with that sign-off?


A good idea for selecting a color palette for your email signature would be matching the color of the major graphic element, for instance the company logo like in the following email signature example: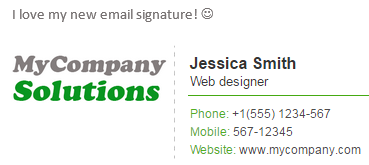 5. Keep graphics in your email signature simple
Try not to use too many graphic elements to keep your signature design simple and elegant. The classical "less is more" philosophy works great in this case. If you include more than one graphic element, balance them out with a minimalistic design of text elements.
6. Never use large images that take forever to load
As you probably know, the bigger your message, the bigger the chance for it being labelled as spam. So, be sure to optimize your logo and other graphics before including it in your email signature, otherwise you may quickly find yourself in the "Blocked senders" list :)
Sometimes, people recommend not to put images directly inside a signature, but upload them to the server and then link to those graphic elements from your email signature HTML code. Please be careful with this approach because many email clients, including Outlook, prevent automatic download of images from the Internet depending on the user's security and privacy settings. As the result, instead of your lovely HTML email signature, your recipient could see something similar to this:


7. Visually communicate important details
When designing an email signature, think which information your contacts should see first, and visually direct the eye to those important elements, for example your personal name, company name, your blog or a web-site. Any way, be sure to put that key element in the top position and make it stand out by using a larger font size, brighter color, etc.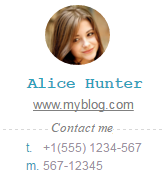 8. Add links to your web-site and social media profiles
To show off your professional brand and drive traffic, include a link to your web-site and social media profiles. Typing full URLs can make your signature look cluttered and crude, while short hyperlinks can help you create a neat and compact signature design.
Just compare the following email signature examples:


Even better, you can add social medial icons and link them to your profiles:


When including social media icons in your email signature, it's very important to keep the balance, otherwise you may get the result quite opposite to what you expected, which leads us nicely to the next tip.
9. Don't include too many social media icons
Including links to your company's Facebook, LinkedIn, Twitter, and Google+ and other pages is a great way to extend your social media circles. However, it makes no sense to list every profile you have because no one is going to click every single icon in your signature. Just focus on a few major profiles that matter most for promoting your business or personal brand, otherwise you may end up with something similar to this :)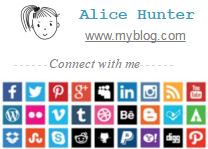 10. Avoid using quotes in professional email signatures
A common mistake that many people make when designing business email signatures is adding a quote in the last line. While this is absolutely acceptable for personal communication with friends, you'd better leave quotations out of your formal signature. You never know which quote might give a wrong impression or offend someone, so it's just not worth the risk.
11. Add a company tag line or call-to-action if appropriate
If you do want to include something special in addition to the usual email signature essentials, why not encourage people to visit your web-site or blog by including your company tag line or other call to action?
Instead of adding a trivial link, try promoting your web-site in a unique way, like in the following email signature example:


From my own experience, when our company released a new product, Shared Email Templates, which lets people instantly reply to email using a template, our sales team rushed to promote it and everyone included a link to the product page in their email signatures... which had little or no effect. And then, someone had a bright idea and added the following line to an Outlook signature:
"Spend too much time on email communication? See how to reply with template in a click!"
Guess whose signature generated more downloads?
12. Add a shorter signature to replies and forwards
It is a good practice to include a longer signature on your first email, and in subsequent emails use a shorter signature that includes just the essentials such as your name, company, phone, and website link.
13. Make your email signature mobile-friendly
Needless to say, these days people often send and receive emails on the road, and therefore chances are that your email will be open on a mobile device rather than on a desktop email client.
Apart from simplicity and light-weight graphics, scalability is the most important aspect to consider when creating your signature. Be sure your text is readable and graphics is legible when scaled down onto smaller screens.
14. Use a special signature for emails sent from mobile devices
Some people say that adding a line like "Sent from my smartphone" is pointless and even irritating. It is indeed, if you always use correct spelling, grammar and punctuation regardless of whether you are writing from your computer or phone. And if you don't, know that people tend to be more forgiving of errors in emails signed with "Sent from my iPhone" and the like.
If you are not quite happy with the standard "Sent from my ..." sign-off, you can always create your own mobile signature with the following logic: Apology - Status - Sent from...
Here are just a few ideas:
Please excuse any typos as it was sent from my iPhone.
Sent from my iPhone. Please forgive the typos and brevity.
Sent from my smartphone, all typos and error self inflicted.
15. Test your signature in multiple email clients
Once you've designed a great professional email signature, be sure to test it in as many email clients as you can. Be especially careful with HTML formatting because it may not appear the way you want for everyone. Just because your html email signature looks nice in desktop Outlook or Outlook.com, it doesn't mean it will work perfectly in Gmail as well.
With all these tips in mind, sketch or visualize your brand new email signature design, and then try to implement it using some program that supports both text and graphics. For example, it took me just a few minutes to create the following signature in Microsoft Outlook:

If you are curious to know the exact steps, you will find them here: How to create a professional Outlook email signature.
In case you are looking for a professional signature design, you can utilize one of the ready-to-use email signature templates offered by online signature generators.
Free email signature generators
There exist plenty email signature generators on the web, and you quickly find them by typing something like "free email signature generator" in the search box of your favorite search engine. Alternatively, you can check out 4 free signature generators listed below, which in my opinion are the best offerings on the market.
WiseStamp - free email signature generator
WiseStamp lets you choose from a collection of professional email signature templates, customize the color scheme, add your photo, include links to your web-site and social profiles, automatically share your latest blog or social content, quotes, and more.
This signature generator integrates with all major online email platforms, including Gmail, Outlook.com and Yahoo! and automatically loads your beautifully designed and personalized signature as you are composing an email.
If you want to export your signature to a desktop or mobile email client such as Microsoft Outlook, Mac Mail, IOS Mail, and Thunderbird, then you will need to buy the Pro plan (at the moment of writing the price is $4/mo.) The Pro plan offers a number of professional email signature templates and extra design features, removes WiseStamp branding, allows you to create multiple signatures and associate them with different email accounts.
I have to admit that WiseStamp is my favorite email signature generator, and I used it to create many of the email signature examples you saw in the first part of this tutorial. And here is a couple more email signature templates provided by WiseStamp:


Newoldstamp - free email signature generator
Like WiseStamp, the Newoldstamp generator also offers a selection of free and paid email signature templates. The choice of free signatures is limited to only 4 templates, two of which are shown below:


The good news is that Newoldstamp allows exporting your customized signatures to all major email clients free of charge, including Microsoft Outlook, Outlook.com, Gmail, Yahoo, iPhone Mail, Mac Mail, and Thunderbird.
The paid Premium version provides up to 100 templates depending on the selected subscription type. You can check their pricing here.
Htmlsig - HTML email signature generator
The htmlsig email signature generator provides 5 free email signature templates. You select the layout under Signature Theme on the Style tab, and then you can customize your signature by selecting different colors and fonts. Your edits are immediately displayed under Signature preview: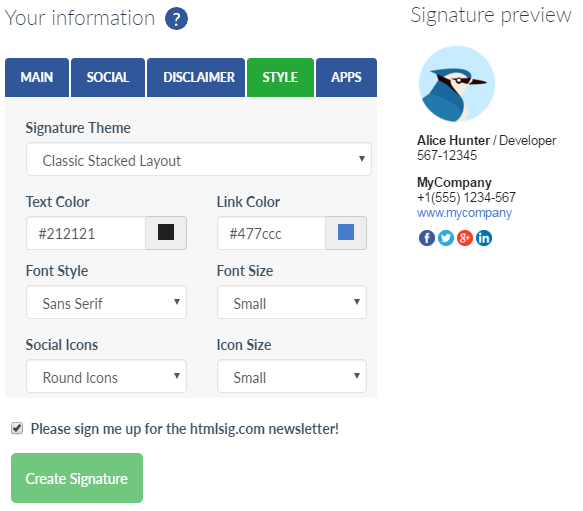 When you are done editing, click the big green Create Signature button, and you will get a link to the complete html source code of your email signature:


Please be aware that your free email signature will be saved only for 30 days on their system, during this period you can come back and make changes. If you would like to make edits after that, or if you plan on managing multiple signatures, you will have to set up a paid Basic or Pro account.
Signature Maker - free simple HTML email signature generator
If you are looking for a simple neat html signature with just essentials and no unnecessary frippery, try out Signature Maker. Currently, they offer just one email signature template (please see below), but it's absolutely free and can be used both in online and desktop email clients.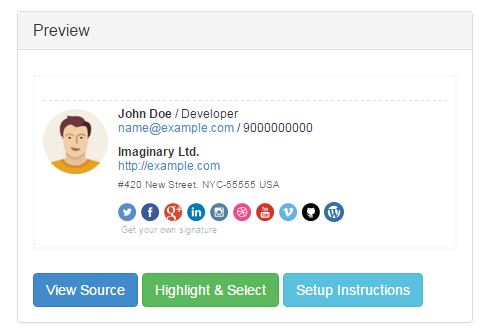 To export the signature to an online email platform, click the View Source button, copy the html snippet of your signature, paste it into a new .html file (e.g signature.html, and update your email client settings to use your newly created signature.
To add the signature to desktop Outlook, click the Highlight & Select button, press Ctrl + C to copy it, create a new signature in Outlook, and paste the copied signature there. All text and graphic elements are editable, and you will be able to make any changes any time you want.
I hope these examples and tips have given you some inspiration to create your own beautiful signature. If you know some other tips or tricks or want to share your inspiring email signature examples, you are most welcome to leave a comment!
You may also be interested in