Spring has arrived, bringing us a breath of fresh air, new possibilities, and the latest upgrade to your spring cleaning toolkit — Power Tools V1.16!
Our team has poured countless hours into this update, testing and fine-tuning its every aspect to ensure a seamless experience for you. We've listened to your feedback, and we're proud to say that this release is the result of your invaluable input combined with our team's expertise ;)
We invite you to work smarter, not harder, with these new features and improvements for Google Sheets.
Tip. Install the latest version of Power Tools from the Google Sheets store from the Google Sheets store and get ready to spring into productivity.
NEW: Compare sheets cell by cell for differences
Yet another comparison tool you may think… But think twice ;D This add-on doesn't just look for duplicates or uniques. It compares cells in each row between multiple Google sheets and marks all differences.
There are 2 ways to track those differences:
have them highlighted and even described in a status column in each sheet.
have everything grouped in one comparison report in another spreadsheet for the whole picture in one place:
Video: how to compare Google Sheets for differences
I believe one demo video speaks better than words, so here are 2 minutes to see this new arrival in action:

This step-by-step guide describes each setting in detail and shows all possibilities offered by the comparison report.

NEW: Merge multiple lookup sheets in one go
Merge Sheets underwent some major changes as well. First and foremost, it finally lets you merge more than 2 sheets at a time:
You add as many lookup sheets as you need on the 2nd step, and the add-on takes the required data from them one by one to your main sheet:
I'm not going to go over all the details and other new features here since I announced them earlier in this blog post, but here are a few highlights:
Insert additional matching rows. For when you also want to pull those extra rows that belong to the same key value:
Pull notes along with their values from lookup sheets:
Add sheets from more places of your Drive:
NEW: Sum or count ALL colored cells
Function by Color now knows how to sum or count not just one but all colors in the range of interest. It builds one formula that returns the names of all colors with their calculated results:
The settings are almost the same and you'll find them on the additional tab — All colors: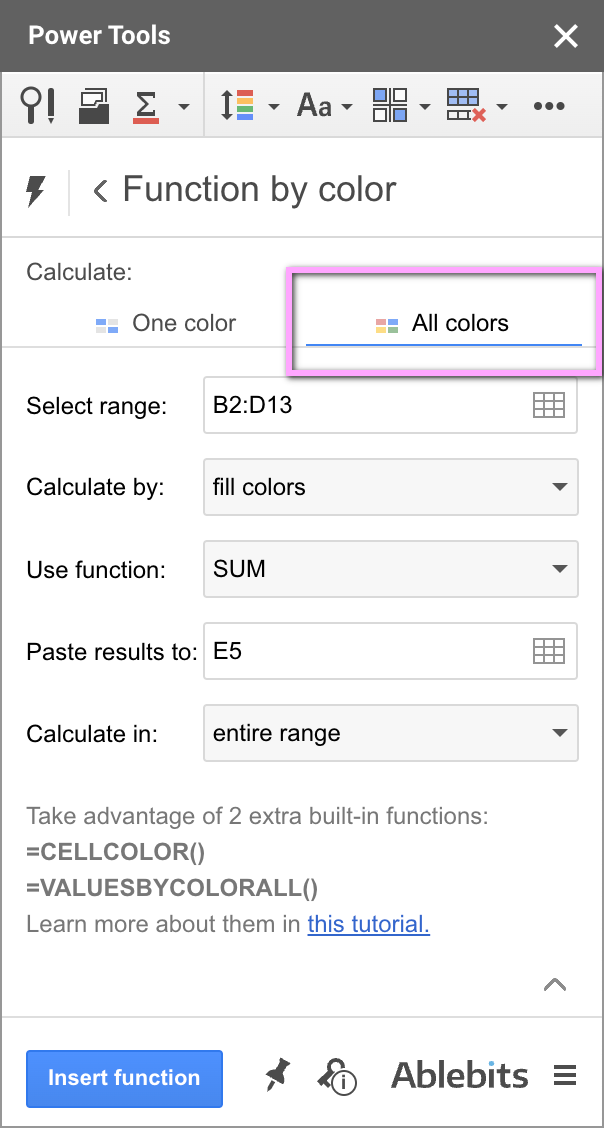 NEW: Split sheet by any number of rows
The upgrade didn't bypass Split Sheet. It features a new way to split your table: by a certain number of rows:
You'll be able to fine-tune the number in 2 ways:
enter the exact number to split rows by, e.g. by every 10 rows
or specify the groups of rows you'd like to see in separate sheets, e.g. 1-10, 11-50, 51-500
NEW: Sort by color
Our Power Tools has acquired its own Sort by Color. And it works unlike the Google Sheets built-in tool, so I recommend you check it out anyway:
Our add-on gathers all colors together and sorts them in the order you specify directly in the add-on:
The built-in Google Sheets tool gathers only the rows of the selected color at the beginning of your table:
So based on your task, you may need one tool or another. Another is in our Power Tools ;) These instructions will help you get started.

IMPROVED: Text tools process multiple non-adjacent ranges
The tools designed to process text — Add, Modify, Remove, Split, Extract — all now handle several non-adjacent ranges:
It means that rather than selecting each column individually and processing them one by one you can change all required columns with one tool in one go:
IMPROVED: Easier conditions in Multiple VLOOKUP Matches
Whenever you need to enter multiple words to see if cells contain/equal to/etc. at least one of them (OR condition), you can now simply copy the list of such words and paste it into the add-on. The tool will take them as parts of your condition automatically: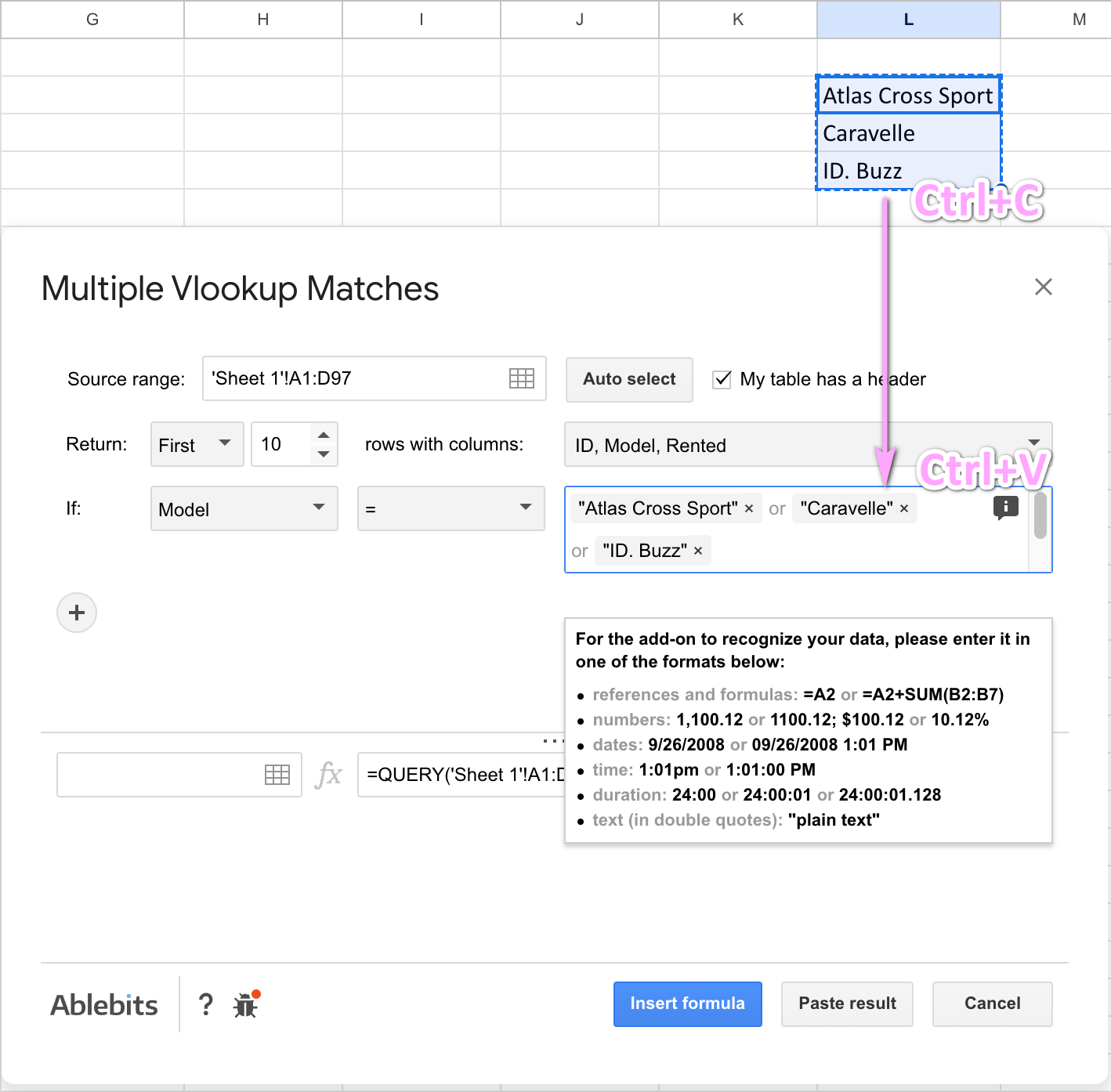 IMPROVED: Convert text in parentheses to negative numbers
The Convert tool now turns all text written in parentheses into negative numbers, just like Google Sheets does when you change the Number format:
And this is apart from the fact that Convert also recognizes more formats in general, including custom ones!

IMPROVED: Add favorite spreadsheets from your Drive
All add-ons that let you add files from Drive (Merge Sheets, Compare Sheets, etc.) will see your starred items as well. This is super useful if you want to instantly add some files of interest to handle it with the tool: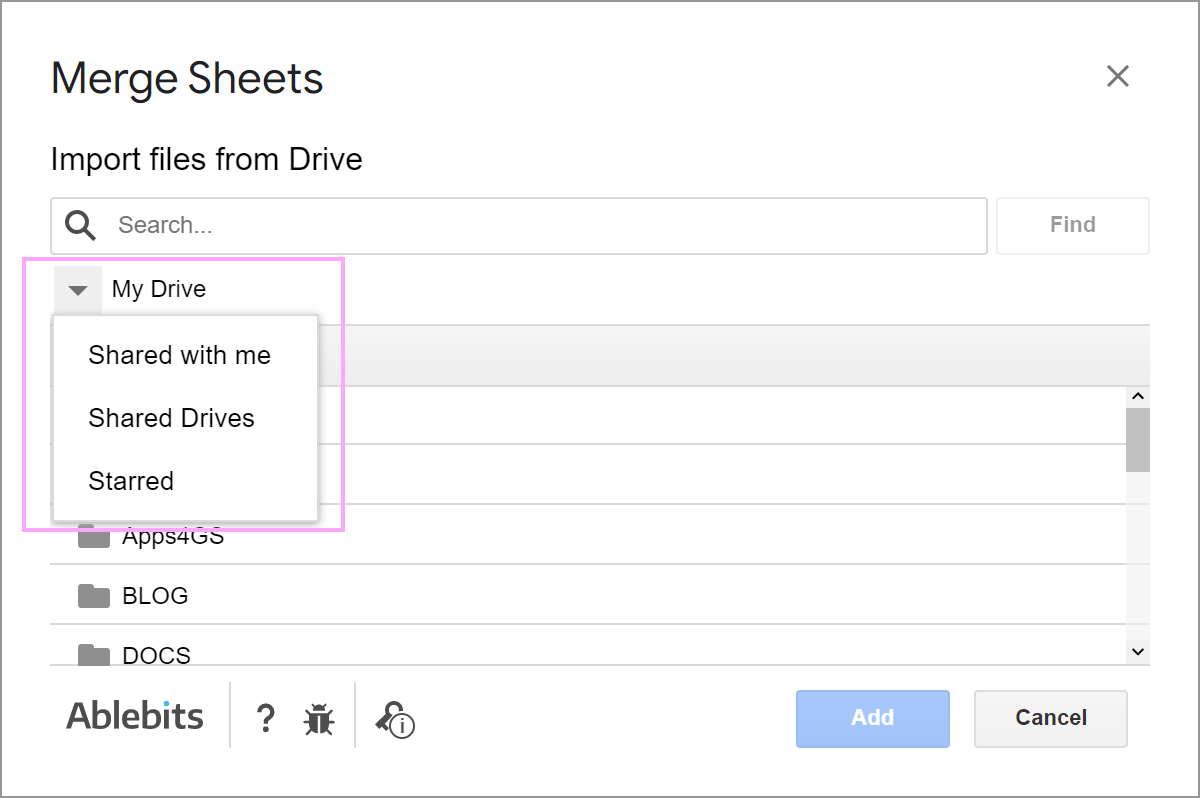 Video: Intro to Power Tools
You may also be interested in