New Link Checker for Microsoft Word is out: the quickest way to fix broken links in your document
Little helper to manage links in Word files
This small yet powerful tool comprises such functions that ease the work with both links and cross-references. It is designed to search for links, edit and delete them in a split second even within a large document. In addition, it allows you to export the found links to another Word or Excel file. And the latest version has even more to offer.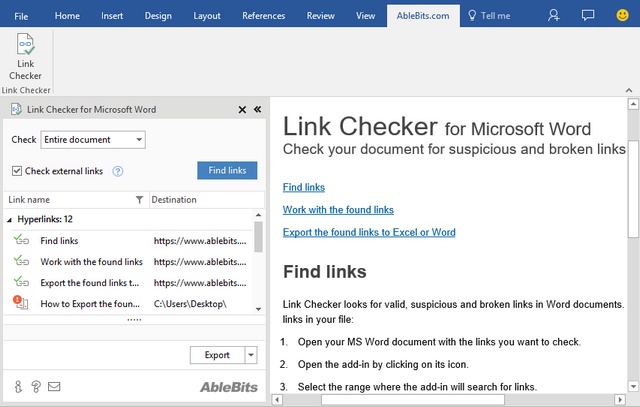 What's new in Link Checker
Our team of developers work hard to create and upgrade the add-ins that can be of great use to you. Link Checker is no exception. So, here's a list of all the changes that make the recent version a must-have.
Increased tool speed
This major improvement allows you to find links much faster and get more precise results. With a quicker response now it takes only a few seconds to scan even large data amounts. It really saves your time and nerves.
Know your links: results message and filter button
When the search is complete, you will see a pop-up message. It will show the total number of links in your Word document and how many of them of each type your file contains. In case you decide to work with valid, broken or suspicious links only, the updated tool makes it possible to filter the results.
No links left behind
If for some reason you abort the scanning process, Link Checker will show you all the links that remain unchecked. You will be able to filter, edit, delete them, or start scanning again.
Friendlier UI
A nicer design with more pleasant visual elements will contribute to an easy and satisfying experience of working with documents.
Microsoft Word 2007-2016
Of course, the add-in is fully compatible with Word 2007-2016.
Make sure to update your Link Checker to enjoy its new features, increased speed and design in any Word version you use!
If you have any questions or suggestions, or you want to share your thoughts about the product, feel free to comment below; or email us at support@ablebits.com if you experience any problems with the add-in.
You may also be interested in