Add-ins Collection for Outlook - helpful tools for effective email management
In this article you'll learn about Outlook Add-ins Collection by Ablebits and see what's new in our most popular tools for your inbox.
While mail is designed to simplify communication, sometimes it becomes a counter-productive tool since we spend too much time managing items in our inbox. The good news is there are utilities within your reach aimed to help you cut the time you spend dealing with messages and simplify your daily email routine.
Just reply yes or no to the following questions:
Do you need to type the same text again and again when composing emails?
Do you forget to copy your colleagues on some of your outgoing messages?
Do you spend too much time checking your emails before sending?
Are you tied to your Outlook inbox being afraid to miss a really important message?
Do you correspond with people who live overseas or on different continents?
Do you need quick access to email headers to fix some common mail problems?
If you have at least 2 yeses, you should install Add-ins Collection for Outlook and see how it can save your time and improve your email management.
A single setup for 6 solutions
Downloading Add-ins Collection for Outlook you get a single setup for 6 different tools:
When you open Outlook you'll see their icons under the Ablebits.com tab. Just click on these icons to run the add-ins or see their settings.


Automate adding CC and BCC addresses
Poor use of CC and BCC lines may be really annoying. Especially if you often forget to copy your chief or colleagues on important messages.
With Auto BCC you can configure a rule for some or all outgoing emails to automatically add CC or BCC addresses. With a perfect choice of conditions and exceptions you can concentrate on replying to emails being sure that the add-in will be sure to add the needed address to the CC or BCC field.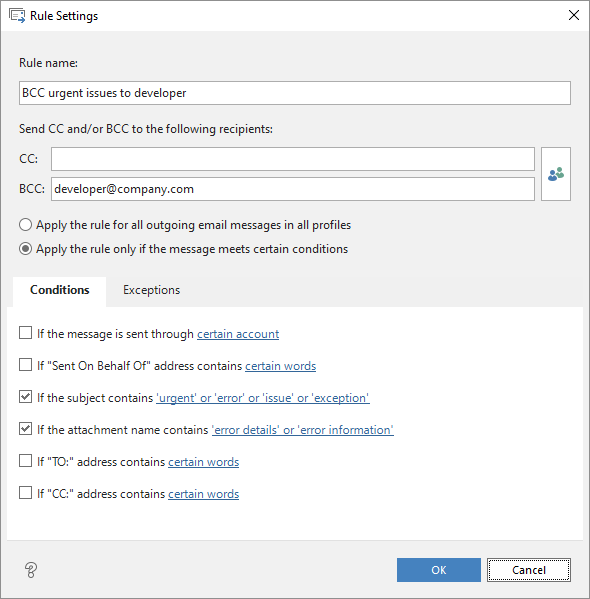 Recent changes:
You asked and we added the Export and Import options to easily back up and share rules with colleagues.
The known issue with the Global Address Book is fixed.
The add-in has got a new improved design and user interface.
Now you can make fewer clicks to add CC and BCC addresses to the corresponding fields.
Use ready-to-insert templates in Outlook
If you think about your mailing routine, you'll probably find a trend in messages you reply to. Some common things like thank you letters, answers to frequently asked questions, or support requests may make you waste an enormous amount of time on typing the same text from scratch.
With Template Phrases you can create ready-to-insert replies to paste them to your emails in one click, share templates with colleagues, use helpful macros and shortcuts, add texts to favorites and benefit from the quick search option.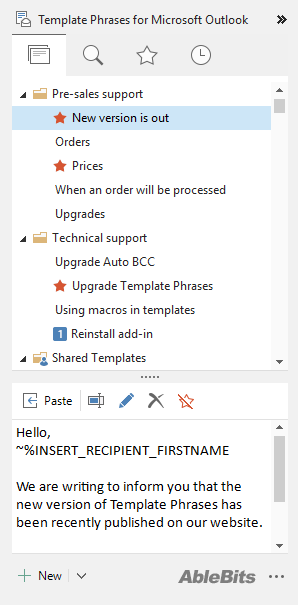 Recent changes:
We have added a special icon that lets you paste a template in one click.
The issue with positioning the add-in window for two monitors is fixed.
The add-in has got a new improved design and user interface.
Check your outgoing emails in Microsoft Outlook
If you spend too much time making sure the email is sent through the correct account, that you added the attachment, and didn't exceed the message size limit, Outgoing Email Checker is here to help you.
This Outlook add-in will verify your messages before sending and will prompt if the conditions you specified in the rules are not met. Just create the necessary rules and the tool will pop-up a reminder to let you fix the letter. You can create a rule from scratch or use a template.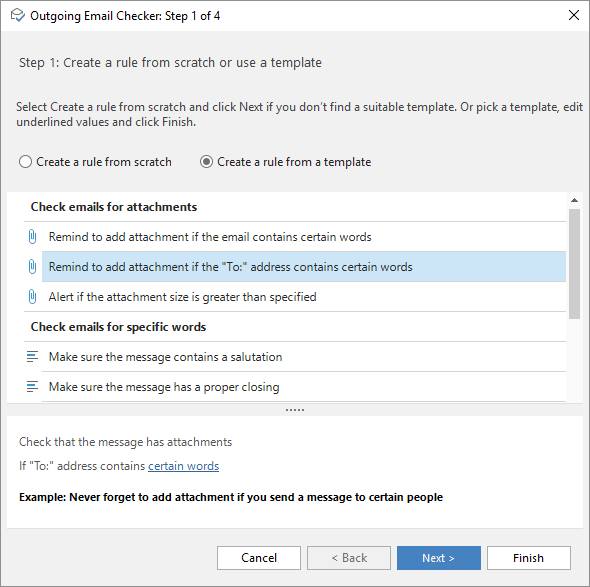 Recent changes:
The add-in has redesigned and the user interface has been imprived.
See the sender's time zone
Do you find yourself corresponding with people overseas or on different coasts? If so, getting their time zone at a glance can increase response rates. Sender's Times Zone displays the sender's current time and your time zone difference when you read or reply to an Outlook e-mail. It can definitely help you in sending emails at a time that works for the recipient's schedule.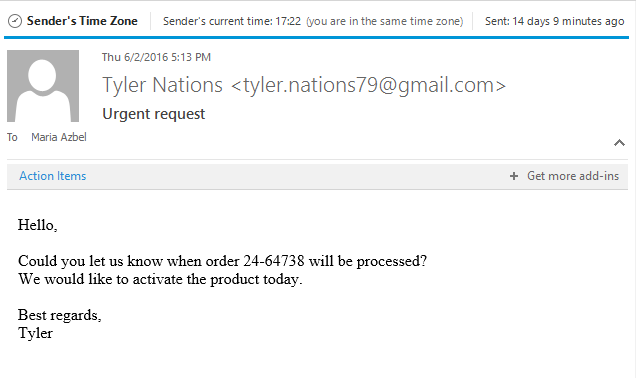 Recent changes:
In the latest version it's possible to configure the view of the Sent field. Choose to see either how much time ago the email was sent or the time when it was sent.
Never miss an important email
Suppose, you are waiting for an important email you need to reply to in a timely manner. At the same time you are busy with creating your super-urgent annual report. Instead of constantly checking your inbox, you can setup a simple rule and be notified the time you get a long-awaited email.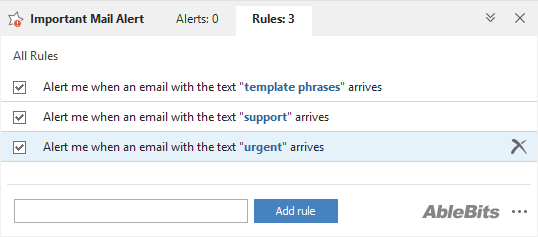 Recent changes:
The code of the add-in has been significantly improved.
Analyze Outlook email headers
Outlook email headers provide you with exceedingly helpful information for diagnosing mail problems. Email Headers Analyzer lets you retrieve message headers for further review and shows the data for you in an easy-to-read manner.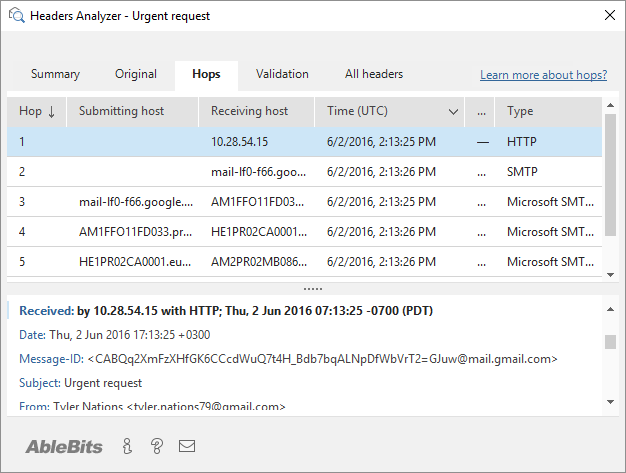 It's a brand new add-in for Outlook by Ablebits that helps you
Open email message headers in Outlook in a click
See the analysis of all server hops and the time between them
Get authentication results and AntiSpam details
Use links to browse for header fields and RFCs.
Though Outlook already has numerous features, you can always add functionality to your inbox that can reduce the time you spend dealing with email.