What's new in Ultimate Suite - the latest changes in our top add-in for Excel
There is no limit to perfection, so we never stop improving Ultimate Suite. We pay close attention to your emails, carefully consider your ideas and advice, and we gladly turn problems into solutions.
We are happy to let you know that the latest version of Ultimate Suite has got 3 new tools, 1 old tool has been re-implemented and 2 of your favourite add-ins have been improved.
We have also fixed major and minor bugs and issues in Merge Tables Wizard, Duplicate Remover and Merge Cells.
Now Cell Cleaner has it all and more
Cell Cleaner started from a small add-in aimed to help you get rid of excess spaces in Excel. Later it got 4 buttons for trimming extra blanks, removing unwanted characters, converting text and changing case in your worksheets. Recently we have added 3 more buttons. Now Cell Cleaner covers all possible tasks you may have for perfectly clean and error-proof tables. On this page you'll find the list of all new features.


Remove characters by position
The options in this group are designed to delete characters depending on their location in the selected cells. You can remove the first or last characters, find certain characters by their order, or erase everything before or after the entered text.
Remove specific number of the first or last characters
Remove everything before or after certain text
See how your data will look like on the Preview pane.
Clear formatting in Excel
This new pane helps you clear cells to remove number formats, conditional formats, borders, and more. Thus you can easily delete any custom cell and content formatting.
Reset the number format to General
Change the text alignment to General, bottom
Shift any font to Calibri 11 pt
Remove the current background color
Reset the text color in the selected range to Automatic
Remove all Conditional Formatting rules
Delete borders.
Add text to the selected cells
Enter any text on the add-in pane and add it to any position in the selected cells. Easily append prefixes, suffixes, strings, characters or symbols.
Add text at the beginning or at the end of the selected cells
Append text after character number
Before text or after text.
See how your table will look like on the Preview pane.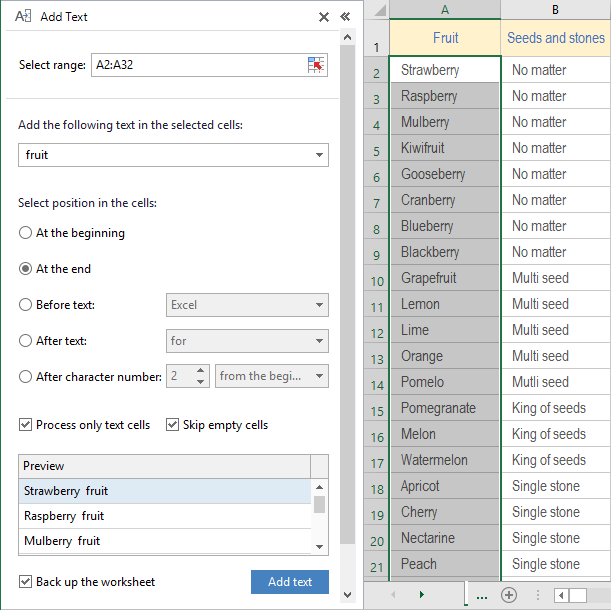 Split text in Excel
With the new version of Cell Cleaner you can easily bring text from one column into different columns using any character or string as a delimiter. Split cells by characters, by mask, or by strings and choose to get the split data parts in columns or rows.
Split cells by characters
Split cells by mask
Separate a column by strings
Split text to columns anywhere in your table and be sure that no data will be overwritten
Choose if you want to split text to columns or to rows.
Control how your data will look like on the Preview pane.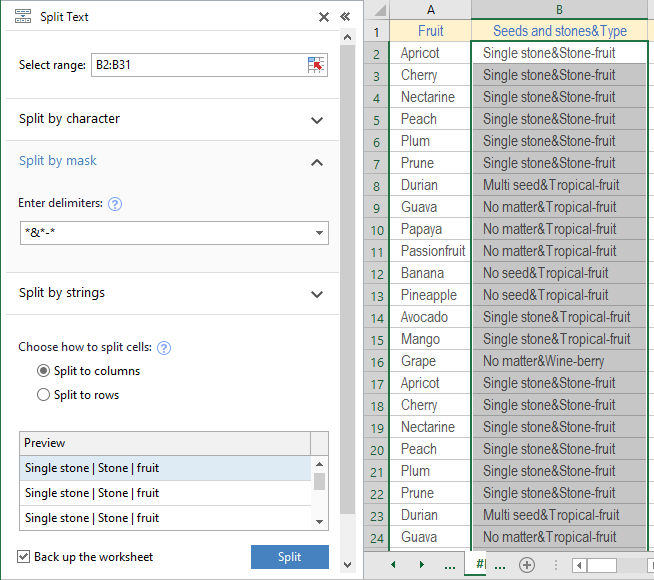 Consolidate Worksheets - more advanced and much more convenient
The new version has got one more option and now you have 6 consolidation variants to choose from. Consolidate Worksheets Wizard has been split into 3 separate buttons to give you an immediate access to your favorite tools. Now it contains Combine Worksheets, Copy Several Sheets and Consolidate Worksheets. New helpful schemes next to the names of specific options won't let you get confused.
Now this smart tool covers all possible tasks you may have for perfectly consolidated tables.
Combine worksheets in Excel based on column names
With the help of Combine Worksheets you can join data from columns with the same name even if the column order is different. Also now you can choose if you need to combine data from all columns or if you want to select only specific columns to join and copy to a new sheet.
Copy several worksheets to one
With this collection of copying options you can join data in a number of ways. Now you first specify how you want to copy your worksheets and then select the sheets for processing.
Copy sheets in each workbook to one sheet. Place the resulting worksheets to one workbook.
Copy data from the selected sheets with the same name to one sheet.
Copy the selected worksheets to one workbook.
Copy data from the selected worksheets to one sheet.
Consolidate worksheets in Excel
If you are an active user of the Excel consolidation option, you'll like this tool for its flexibility and intuitive interface. Consolidate worksheets will help you join multiple worksheets into one in a breeze.
Combine rows - choose a delimiter to apply to all columns at once
In the previous version of Combine Rows Wizard on step 3 you needed to pick a delimiter separately for each column. Now you can select or enter a common delimiter in the Choose delimiter drop-down list and it will be automatically applied to all columns.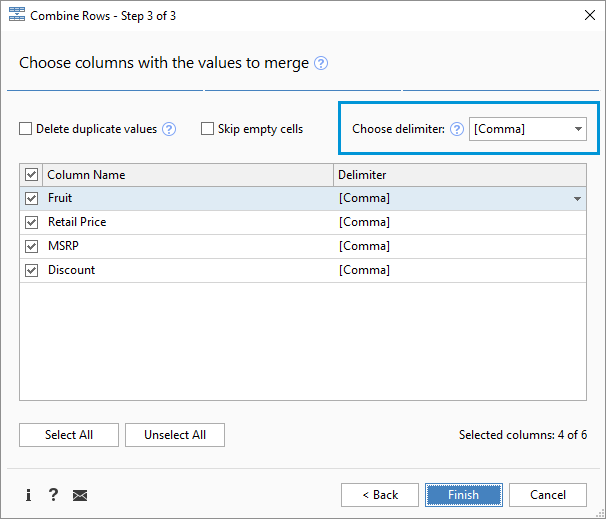 Column Manager is back - enjoy moving columns by drag-n-dropping
A new improved version of the tool is back in Ultimate Suite. If you work with large data tables that have numerous columns, it will help you change their order without copying and pasting one column at a time. Column Manager displays a list of your columns to easily navigate, auto fit and move them by drag-n-dropping. Besides, you can insert and delete new items straight on the add-in pane.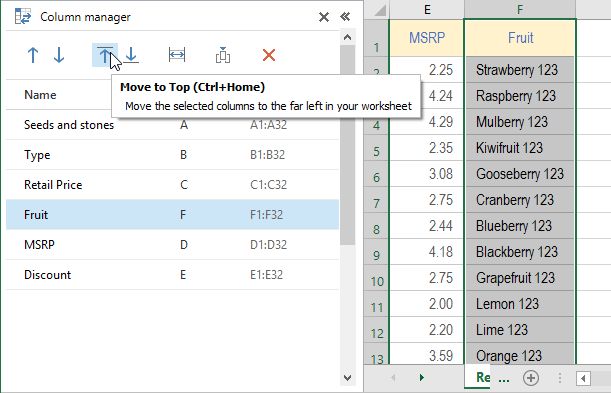 Feel free to download and install the fully-functional trial version of Ultimate Suite to simplify most of the painstaking and time-consuming tasks in Excel.