Ultimate Suite compatible with Excel 2016 is out
The worldwide release of Office 2016 caused a lot of buzz among Microsoft users. So have we been moving full steam ahead to announce support for the latest version of Excel.
Meet the new Ultimate Suite release
Whether you're already knees deep into fall or enjoying a late vacation, you won't want to miss the upgrade for Ultimate Suite.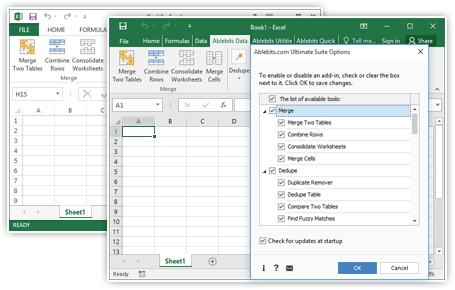 Here is what you can find in your updated Ultimate Suite after installation:
Besides focusing on supporting Excel 2016, we improved the design of the tools, icons, and schematic images that help you see the way your data are processed
We fixed some major and minor bugs we found and you reported
We accelerated the suite productivity even more.
Just hit the button below to download and install your upgrade.
Ordered Ultimate Suite after October 1, 2014?
Email us to get a new key
According to our license policy you get upgrades free for one year after the purchase. If you ordered Ultimate Suite after October 1, 2014, please contact support@ablebits.com to get your upgraded license key.
Purchased Ultimate Suite before October 1, 2014? Upgrade with a 50% discount
Just as we promised, if you ordered Ultimate Suite before October 1, 2014, you can upgrade to the newest version at half price. This will give you compatibility with all Office versions, including Excel 2016, free support, and all the latest improvements and bug fixes.
If you have Excel 2003-2013, you can continue using your current version.
Any questions and bug reports are welcome
Don't hesitate to share ideas and ask any questions in your emails, Facebook and G+ pages. We will be happy to assist you.
Enjoy the upgrade!