Wanted: Excel users seeking to mitigate spreadsheet risk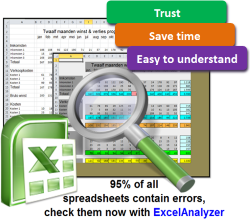 Have you heard any of those spreadsheet horror stories? Companies lose millions of dollars in projected revenues due to formula errors. Cut-and-paste issues cause budget gaps and make top officials resign. Cell-reference inaccuracies lead to underpricing, budget deficit and what not.
Such horror stories have a similar beginning. You start creating a complex spreadsheet from a single cell and end up with numerous sheets seeded with formulas, VBA, links, comments, hidden and protected data, and often... with errors. Alas, even the most experienced Excel mavens make mistakes.
ExcelAnalyzer - your Excel auditing software
Errors can be extremely difficult to find, especially on big sheets. We understand this because we use spreadsheets to analyze and manage finances, taxes, and accounting. And we more than understand that any error may cost a lot.
Lately, we have had several questions from Ablebits users about auditing in Excel. So we thought, it would be a good idea to offer you a great tool for checking your spreadsheet data and eliminating spreadsheet risk.
The developers of ExcelEnalyzer studied the best-practice standards of spreadsheet developing and checking to create a fast platform for auditing your table data. Powerful-yet-clear summary reports give you an overview of your table information and highlight possible errors in a visual straightforward way. ExcelAnalyzer scans spreadsheets for formulas, functions, VBA, links to other files and potential errors, and displays them using colors and intuitive interface. With a great accuracy it identifies input cells, cross-book precedents and dependents, shows hidden, protected, empty sheets and many more. Try this effective solution to manage spreadsheet risk when you are in a rush to meet deadlines or to eliminate arduous manual work.
Please, please, please let us know what you think
Do you find the idea of an Excel auditing tool letting you analyze errors in a simple manner useful? Would you buy it right now? May be you already have one and it's missing some features.
Please let us know in comments or email support@ablebits.com.
Thank you!