If you've been searching the web for an easy and flexible way to unpivot data in Excel, you are in the right place at the right time. Ablebits have just released a new tool for Ultimate Suite. This little add-in will easily convert your crosstab table to a normalized list.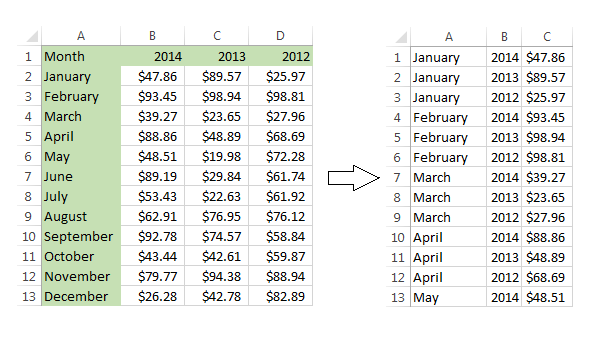 If you often create summary reports with Excel Pivot Table functionality, sometimes you may need to turn your crosstab table to list. The point is that many analysis and visualization tools, like Tableau, or Protovis, don't work with pivoted data. Here you start searching for a VBA macro or any other possibility to transform your summary table to list. Good news is that you can simply use Unpivot Table add-in and get the necessary results in seconds.
Unpivot your Excel table in seconds
The Unpivot Table tool is a part of Ultimate Suite by Ablebits. Thus to try it out, please download and install the latest version of Ultimate Suite to your PC.
When you open Excel, you will see the Unpivot Table icon under the Ablebits Data tab in the Transform section.


Just open your Pivot Table by clicking on its icon, choose if you want to separate the resulting parts by an empty row and select the destination for your list. It's possible to place the results to a new workbook or worksheet.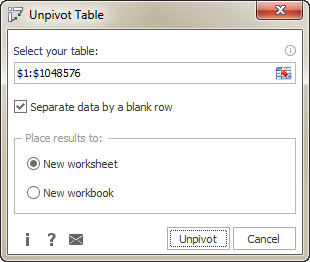 That's it! Forget the time when you needed to spend hours manipulating and transforming your spreadsheets. Unpivot Table for Excel will normalize your crosstab list and will prepare it for further processing with complex visualization