Outgoing Email Checker - Never hesitate before hitting Send
If you use Outlook as a primary tool for business communication, your e-mail is a great part of your professional image. However, the more e-mails we send, the more likely we are to make simple e-mail mistakes that can cost us reputation or even career. So we decided to go through the silliest of these mistakes and create a tool that will help you avoid them.
Outgoing Email Checker for Outlook will verify your messages before sending and will prompt if one of the conditions you specified in the rules is not met. Its flexibility lets you customize what kind of warnings will appear and when they will appear for you.
Also we would like to thank you for being our blog readers and offer you to buy Outgoing Email Checker at half price. Just use 4READERS-EMLCHK-HALFPRICE as a coupon on the order form (coupon valid till 01-aug-2014).
Do I need Outgoing Email Checker?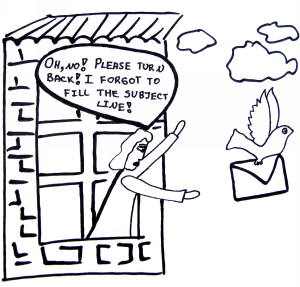 Yes, if you are guilty of any of these common emailing mistakes :-):
Forgetting to add an attachment
Failing to include all initial recipients
Leaving off your signature
Sending oversized messages
Using personal address for business emails
Forgetting to fill CC or BCC lines when necessary
Missing basic greetings
Underestimating the importance of the Subject line
Flexible rules to avoid email embarrassment
All you need to do is to create the necessary rules based on conditions and the tool will pop-up a reminder to let you approve the letter. You can create a rule from scratch or from a template. For example you can use the following rules:
Make sure to add attachment if the email contains certain words or is sent to certain recipients
Alert if the message size is greater than specified
Make sure the message contains a salutation and/or a proper closing
Make sure the "To:" or "CC:" field contains certain words if sent through particular account.
Those are just few possible rules you can set. With the option to invert conditions you can specify dozens of different rules according to your needs.
Hit Send twice - send the letter once!
Prevent silly mistakes when sending emails - download a 15-day fully-functional trial version of Outgoing Email Checker for professional careful emailing.