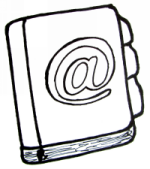 Do you remember life without Internet? The one when there were several possibilities to keep in touch - telephone, paper and a pen, and carrier pigeons of course. The life when you kept all your contacts in a paper address book. Later address books became electronic. With the appearance of email communication and Outlook we've got the Global Address Book.
What we offer you today is our Smart Contacts for Outlook add-in. It's a simple way to store and find contacts, as well as easily access email addresses.
Clever Smart Contacts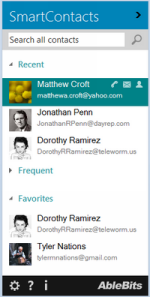 If you are still struggling through emails of your Outlook address book, you can accelerate your correspondence by adding Smart Contacts.
Easy search: enter the first letters of a name, domain or any part of the contact and all matching email addresses will appear according to the frequency of use.
Contacts in categories: you see your recent contacts on the pane in case you need to send a follow-up letter, you also have frequent emails in one place. Or you can add the most popular contacts to the Favorites group.
Double-click on a contact to create an email. Click once on an address to add it to the To, CC or BCC line.
Work with multiple contacts at once: if you work in a team, you can pick several addresses and see the options to create an email, a task or a meeting.
Smart features on your side
Click to add contacts to Outlook address book after you reply to a message
Create, edit or delete contacts.
Pick the default email address to use if your friend or coworker has more than one
Choose the group to access when you minimize the pane
Automatically add an email address to Smart Contact list when you reply
Remove contact from the list or restore it
You will like this address book software as it cuts the clicks on all basic operations with Outlook contacts.
Give it a go!
Download a 15-day fully-functional trial version of Smart Contacts for Outlook to find your reasons to like this tool.