I think it's our first February Office 365 digest. And it's all about integration: SharePoint Online and Outlook, Office 365 and BlackBerry, O365 and Windows Phone. It's always better together!
How to integrate SharePoint Online and Outlook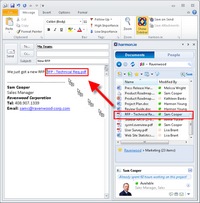 Your company has moved to SharePoint Online and shifted the files into a new structure of sites and libraries? So now you are struggling through it all to navigate to the necessary content? There is a time-saving tool  called harmon.ie that is able to help you. The plug-in will create a collapsible sidebar in Outlook which allows navigating SharePoint while still within the Outlook application. This tool can be irreplaceable when you want to attach documents to emails as you can simply browse to the local of the file and copy and paste into the email.
It comes both in free and enterprise versions and allows navigating SharePoint Online from within Outlook. You can learn more if you check out this informative overview.
IBM Docs: A Google Docs, Microsoft Office 365 Cloud rival?
While Google and Microsoft have been busy fighting for their place on the Cloud, there arrived another cloud-based software productivity suite.  IBM Docs, a cloud-based collaboration and communication suite, is running full power to counter Google Docs and Office 365. Who will be the King of the Cloud?
Gone Google? Got Concerns?
There has been quite a lot of discussion during the last week about Google's unpopular changes to some of its products.
Microsoft have decided to take advantage of the situation and attempted to reach out to people upset by these recent changes and reminded the Google users that they have a choice. They get the reasons why they should prefer one software giant to the other in this article.
.PST capture tool
Announced in July, PST Capture tool is now available for a free download. PST Capture helps you search your network to find and import .pst files across your environment. It is designed to help at reducing risk while increasing productivity for the users by importing .pst files into Exchange Online or Exchange Server 2010 - directly into mailboxes or archives.
If you think of using the software you can learn the experience of a person who tested the program by checking out Hands on with the PST Capture Tool.
And see what people say about it. Here are a couple of comments...
Update on BlackBerry Business Cloud Services for Microsoft Office 365
Research in Motion launched BlackBerry Business Cloud Services for Microsoft Office 365 - a new facility for organizations to extend Microsoft Exchange Online to BlackBerry smartphones. The current medium-sized or enterprise subscribers of the Office 365 suite or Exchange Online working with BlackBerry smartphones on business/consumer data plans can access the service at no additional charge.
All the interested BlackBerry owners will find the service's key features in this post.
Multiple email Signatures on office 365
When you setup multiple email accounts in Office 365 exchange you can come across an issue that you can't find a way to add signatures for each added or active email account. See how to do it in this handy tip.
Office 365 and Windows Phone
Better Together: Office 365 + Windows Phone
One of the key advantages of Microsoft's platforms is the cross-integration you get across the software giant's various applications, servers, services, and other products. So Windows Phone, integrates not just with other Microsoft platforms, but also with the third party services that matter to most people.  Read more about what happens if you put the two together.
Video: Working with Nothing but a Windows Phone
See how any place can be a comfortable office where you can easily collaborate with your colleagues with Windows Phone and Office Mobile.
Thanks for your attention. And stay with us to catch up with the latest Office 365 news and tips.