Managing Outlook Auto-Complete to your advantage
I love when I open up my Microsoft Outlook 2010 and I'm able to type in just a couple of letters of the recipient and Outlook already knows who I want to put in there. Of course my more frequently used mail recipients come out on top but all those other names on there… there's so much more you can do with them. You could delete some of them, or why not have the exact same list pop up on your home PC? Did you know you can clear out that list - or better yet, just turn it off! Once you understand what you are working with you'll find yourself using Outlook much more efficiently.
Turn Auto-Complete off and on
First off… let's cover how to turn it off and on because if you don't want to mess with it at all then covering this part will save you some reading time. :-)
You'll need to go to File then click on Options.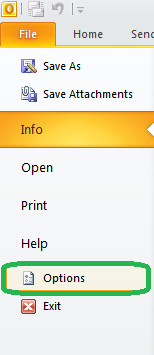 Click on "Mail" menu item and scroll down until you get to the Send Messages part, you'll find the last box of that list that says "Use Auto-Complete List…" - uncheck this box and then click OK at the very bottom of the window.

Simple as that! No more suggested names and you don't have to worry about the wrong name being automatically selected.
Clear the Outlook Auto-Complete list
While you're there you'll see that on the right of that last item in the Send Message menu there is a button that says "Empty Auto-Complete List". That's right, click on that button and it does just as it says. You would use this in the event that you want to use autocomplete but your list is too cluttered. Click on the button.
Click on Yes to confirm that you want to empty the list then click on OK at the bottom of the menu.

Remove some addresses from the list
I think this is a very important topic to cover. In the past I entered an email address incorrectly and unfortunately, each name is stored on the PC where it is used - until you remove it. As you type in a name you'll see a list of people that start with that letter. Go through the list and if you see a name that isn't correct or that you don't want on your auto-complete list, simply click on the "X" next to the name or the Delete key and it is instantly removed from your list.
In case you're wondering how this bit of information will possibly help you… let me tell you a little story. One day I was typing an email to a friend whose name started with the same letter as my supervisor's. That email had a bit of information on how my supervisor was driving me nuts that day. Needless to say, that email didn't go to my friend and that day my supervisor knew exactly how I felt. We laugh about it today but had I put something bad I don't think we'd be laughing at all. :-)
You don't want to put the wrong name and have emails returned because the address isn't correct. Simplify it. Delete unwanted addresses.
Copy your Auto-Complete list to another PC
You get a new computer, open your work email, and when you get to composing a message you notice that all the names on your computer aren't exactly as they were. Well, that's because Auto-Compete isn't username specific - it is PC specific. Outlook
automatically updates the list in the respective computer every time you use it.
I like having the same contact names from work on my home computer and more so with a new computer - if you want the same you'll need to do a little bit of leg-work but it will be worth it.
First you'll need to locate the file that stores your list on the original computer. Before you start this make sure you open any folder and go to Tools and then Folder Options. Click on the View tab and look for Files and Folders section. Make sure you click to Show hidden files, folders, or drives. Click on OK. This will help in locating your Auto-Complete file.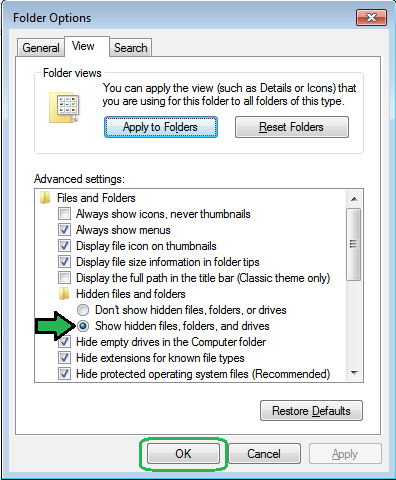 Now that your files are viewable you're going to navigate your way through several folders. Keep in mind that I am navigating you using Windows 7. It may be different so I'll show you two ways to get to it.
Click on the following folders in this order:
Computer - Local Disk (C:) - Users - %username% - AppData - Local - Microsoft - Outlook - RoamCache
Note. AppData might be hidden, which is why you have to do the first step. Your username should be the name you use when you log in to your computer.
Or you can type in or copy and paste the following:
C:\Users\%username%\AppData\Local\Microsoft\Outlook\RoamCache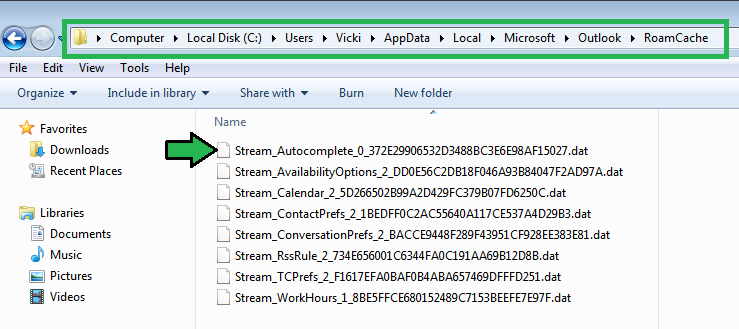 The file you need is called Stream_Autocomplete and it will end with .dat. Now that you've located your file you will need to copy it. Save it to a flash drive and move on to the new computer, find the same file on the new computer.
Now just give the saved file the name of the one on your new computer. From here it's just a matter of copying and pasting it to the new location so you can override the file. Close it up and you're done! All your Auto-Complete names are now on the new computer.
This will save you from having to manually input all the names on Outlook again. Huge time-saver if you like the convenience of having the names come up automatically.
In this tutorial we figured how to easily turn your Auto-Complete off and on. We also talked about how to clear your Auto-Complete list while on the same screen. If you don't want to erase all the information, deleting certain addresses is another option and can be easily done. And lastly, we discussed the benefits and ease of transferring your Auto-Complete list from one PC to another.
Remember, Microsoft is meant to make your life easier - and we'll show you how.
See also