If you are like me, you probably spend more time answering and sending email than you do anything else in your day. In order to both save a little time with every email and to personalize them all, I have taken advantage of the custom email signature feature that Microsoft Outlook offers. There are multiple ways to put your individual mark on a new message you send out, a reply or a forward.
Creating your first Outlook email signature
Please note that my first set of instructions are for Microsoft Office Outlook 2007; I have included Outlook 2010 at the bottom.
Email Signatures in Outlook 2007
In Microsoft Outlook, click on the Tools Tab and scroll until you see the last function "Options".

On the Options screen, you will want to choose the third tab over "Mail Format". Once here you will see the Signatures option near the bottom; click on that.

The Signatures page is where you create! Since you will not have any signatures to edit yet you will need to click on the "New" button, name your signature

and then begin to type and edit away. You now have the ability to write like you would in a typical Word document - you have access to Text tools, Font Colors, Allignment, insert Images or add a Hyperlink.
The image below shows my main basic email signature. I have taken my company logo and made that the header and simply listed my name and title below. I like to put my signature in a color so it stands out from the rest of your email; I will show you a few more examples later.

Email Signatures in Outlook 2010
In Microsoft Outlook, click on File and scroll down until you see "Options"- choose this.
Select Mail from the Options choices, click on Signatures and begin the process!
Assigning your email signatures
You will need to decide if you want the email signature you just created to be used for all of your messages; you have the option of using one signature for New Messages and one signature for Replies/Forwards. You also have the ability to assign different signatures for each account you use in Microsoft Outlook.
In the top right section of the signatures box you should see the "Choose Default Signatures" option. If you have more than one signature created, you can now assign them to the appropriate messages by their given names.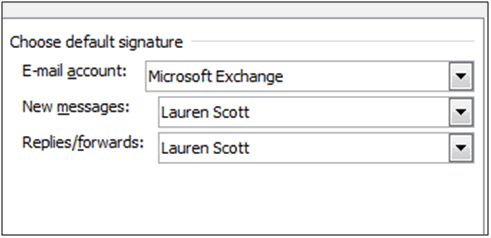 A few samples of email signatures to help you get started…
Change your font to make it more like a handwritten signature
This is a little less formal, but still makes a nice impression when it is on all of your emails.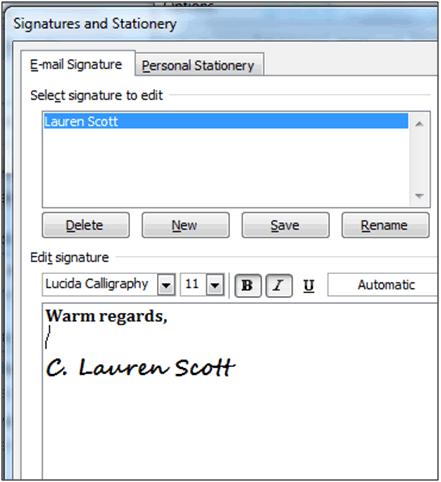 Insert a business card from your contact list
This is done by clicking on the "Business Card" button on the bottom right of the Signatures screen (see it circled in red). This will bring over any information that you have in your Microsoft Outlook Contacts, picture included. It saves you the time typing the information in if you are already listed in the Contacts section.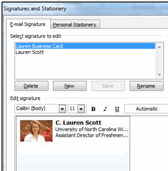 Add a Hyperlink and Image
To help promote for your company and drive business to a website each time you email. This is done by clicking on the "Image" icon or "Hyperlink" icon on the bottom right of the Signatures screen (see the Image icon highlighted by the green box and the Hyperlink icon highlighted by the green circle).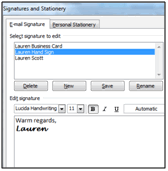 There are so many ways to create email signatures; I love that setting up new signatures is so easy... change your mood, change your signature! This function really only takes the initial set up time and then Microsoft Office does the rest... why wouldn't you take advantage of it!
See also