Emily C Kern, math instructional specialist, explains how the Merge Table Wizard made her jobs simpler and less time-consuming
At the end of the 2008 school year, I wanted to see how much students in my class had improved on their state test scores. I had two spreadsheets from the district's data warehouse - one with my students' scores from 6th grade and one from that year's test. I had begun using Excel more that year and knew it could do the work to find the difference between the two scores to see if and how much of an impact I had made.
I worked between the two spreadsheets, cutting and pasting scores so I had a column on one spreadsheet for 6th grade and a separate column for 7th grade test scores. Although not difficult work, it was time-consuming and took me an hour or so to do that for all my classes (about 70 students). Once the data was entered, I used the formula function to subtract the 2 scores, and voila...I had a growth score for my students.
The next school year, my first as an instructional coach, I sat looking at two spreadsheets of the entire school - one was a list of every student on campus and their math teacher, the other was a list of all students' previous year's math test scores. I needed both pieces of information on one spreadsheet, and because the lists weren't identical (we had some students without test scores from the previous year), I couldn't simply alphabetize both lists and copy and paste the columns I needed. The prospect of moving between the two files to manually input that information for 1000 students was daunting, and I thought to myself, "there has to be a better way... "
Merge Table Wizard - quick way to merge two Excel spreadsheets
I began by searching Excel help to find a way to merge two spreadsheets and was surprised to find that there was no simple way to do this. I then Googled the same thing and came across Ablebits and the Merge Table Wizard. Although cautious about installing software that I don't know, the 15-day free trial was right in my price range, and I downloaded it to my laptop. Within 60 seconds, my two spreadsheets were merged. I was elated to see how simple the merge was to do exactly what I wanted.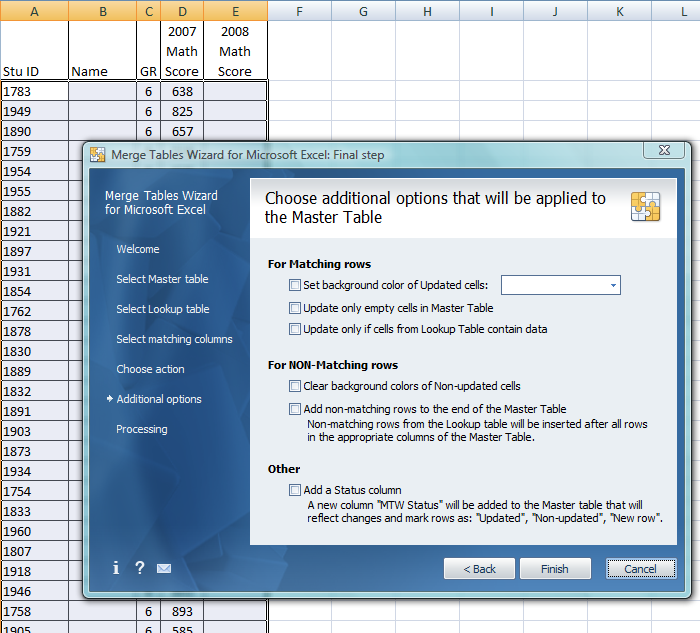 Over the next 2 weeks, I used the Merge Table Wizard over and over to create spreadsheets that helped make my job, my principal's job, and my teachers' jobs simpler and less time-consuming. After my 15 day trial was up, I went to my principal and explained the program and how many hours of work had been saved by having it. She got out her own credit card and purchased the program for me on the spot (yes, I am very lucky to have such a principal).
I have now used Merge Table Wizard for 3 years, and I continue to tout its utility and ease to the administrators and coaches I work with. I simply could not do my job without it. It's one of the most useful and simple programs that helps me so I can spend my time analyzing the data instead of compiling it.
In my future blog posts, I will go into more detail about the types of data I compile for my school - data that is useful to administrators and coaches on a whole-school basis as well as ways that the Merge Table Wizard can be used to support individual classroom teachers as well.
You may also be interested in: