A guest blog by The WebMarketing Group
We're Excel mad at The WebMarketing Group and our spreadsheet craze is one of the ways we manage to implement the most efficient in-house processes. Our production team, our sales team, our analysts and our R&D team all use Excel, day in, day out, in order to serve our clients, and AbleBits have been able to help us make our processes even more resourceful with some nifty little add-ins.
The Merge Tables Wizard for Excel has been trialled by our team and we give it a big WMG thumbs up; it has now become a daily tool which is indispensible to our data collating and merging needs. Whether we need to truncate a group of data or you need to marry up two pieces of similar data, the Merge Tables Wizard can make the process work so much faster.
How we use the Excel merge tool in SEO
The Microsoft Excel Merge Tables Wizard is able to find and merge matching data from two Excel tables. It can make the magic happen in a matter of seconds, saving us valuable time and effort. No more copying and pasting - hooray! In the past, we have exhausted man hours merging manually.
So how do we apply this clever tool to everyday use?
Here is an example of how we employ the tool for our business. In order to continually maintain the highest standards of client care, we keep an extensive record of our clients and how they prefer to be contacted. In order to ensure our communications are effective, we need to keep this updated regularly.
With a number of offices across the county, there are many team members working on different accounts at different points in time. By using the AbleBits merge add-in, we are able to bring together every piece of data onto a master sheet.


Copy and paste less. Make more tea.
The best thing about the Merge Wizard is that you can literally merge any two Excel spreadsheets which are open on your desktop. Not only that, but you can even select particular tabs within the Excel sheets for a more advanced amalgamation of information.
We like to promote an efficient and exciting work environment to inspire our staff members. With Merge Tables wizard we have more time to drink tea and conduct research around hot SEO topics.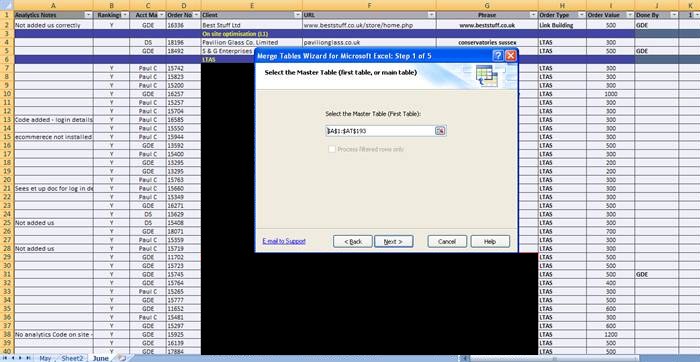 Being able to transport data to and from one location to another so easily and being able to target specific tabs within each data sheet has helped to make our processes run smoothly, with more accuracy and with reduced man hours.
For anyone who is a victim of the old copy-and-paste method, we highly recommend the Merge Tables Wizard for Excel. You will wonder what you ever did without it.
See also