In this guide, you will find instructions for IT pros on how to deploy, activate, create a team & invite members, and manage Shared Email Templates for your Microsoft Outlook users.
Before you start
Before you start, bear in mind that Shared Email Templates includes two components:
Note. This manual is relevant to the Outlook add-in only, not to the web app.
Step 1: Create account
As an admin, you can create teams, invite users, manage access permissions, manage license keys, close teams. Your first step is to create an account:
Step 2: Activate license key
When you have received your license key, you can activate your subscription. One license key may be activated for several users depending on the number of subscriptions you bought. Each of your users should activate the key for their account:
Step 3: Create team and encrypt it
You can create a team and, optionally, encrypt it. To do this, you will enter and confirm the Team Password.
How to create and manage teams
Here is more information on why we recommend you to encrypt your teams:
Encryption and your data protection
Note! This is end-to-end encryption, so make sure to save your Team Password in a safe place since we do not have access to your password and won't be able to restore it in case you forget it.
Step 4: Invite users and grant them permissions
When your team is created, you can invite users manually by entering their emails and checking permissions:
How to invite team members manually
Or you can import a .CSV file with all the emails and permissions:
How to import emails and permissions
As soon as you click the Send invite button, your colleagues will receive invitations to join the team. This is how it looks like: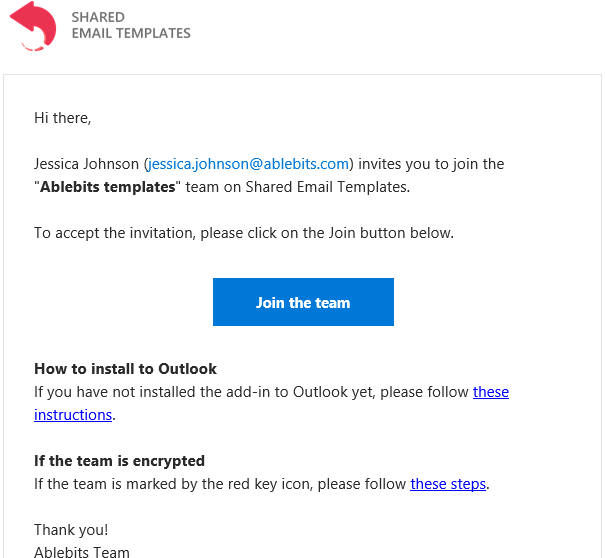 Step 5: Pass Team Password and license key
To secure your privacy, we do not pass the password and key automatically, so this is your responsibility to communicate them to your colleagues. However, we've created an easy way for you to pass the keys. The built-in New team member welcome email template in your My Templates folder will help.
Go to the My Templates folder and find New team member welcome email:

Right-click the template and select Copy:

Select your team as a destination folder:

Сreate a new email, enter the email addresses of your colleagues into the To field, and paste the template to your message body by clicking the Paste icon:

As the template includes the Properties macros, you will see the Team Password and license key as well as the name of your team inserted automatically:

Send this email to your colleagues.
Step 6: Manage users
You can change the team members' permissions, remove them from the team, edit your team or close it: