The crash of Excel is one of the most annoying events that could arise while you are working. Unfortunately, it happens once in a while.
If you use Ultimate Suite and your Excel keeps on crashing, please try out the four solutions we offer on this page. In case none of them helps, please contact us right away.
Solution 1: Repair your Office
First of all, let's repair your Office:
If you use Windows 10, go to the Start menu and click Settings:


Tip.

If you use other than Windows 10 versions, go to the

Repair an Office application

page, select your version and follow the instructions.

Open Apps & features:

In the list, find the Microsoft Office application and click the Modify button:

In the dialog window, select the Online Repair option and click Repair:

Confirm your readiness by clicking Repair again:

When the repair is complete, restart your computer. Then open Excel and run any of the Ablebits utilities. If Excel crashes again, please try the solutions below.
Solution 2: Update your Office
If Office repair hasn't helped, the reason for the crash may be an older Office version, so:
Update your Office, following the instructions:
How to update your Office
Restart your machine, run Excel, and start using Ultimate Suite tools.

If Excel crashes again, try the solutions below.
Note.
Ablebits does not support Office Insider and Windows Insider versions. Our add-ins may work on them, but we cannot guarantee the quality as it is out of our control.
To find out if you are using Office Insider, go to Excel - File - Account. If you are part of the Insider program, you will see it in the Product Information section: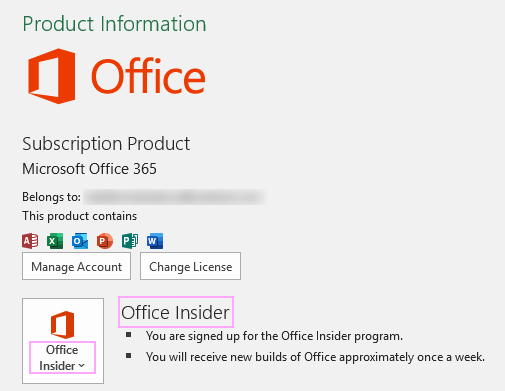 You can opt out of Office 365 Insider program.
Solution 3: Update your Ultimate Suite
Another reason is an outdated Ultimate Suite version and its incompatibility with the latest Microsoft updates. Take the following steps:
Go to the Latest versions page, download and install the edition of Ultimate Suite you use.
Download .NET Framework Repair Tool using the link: https://www.microsoft.com/en-us/download/details.aspx?id=30135
Select the files to download and click Next:

Run the NetFxRepairTool.exe file, check the I have read and accept the license terms box, and click Next:

You will see changes the tool recommends to make. Click Next to apply the changes:

When changes are made, click Finish:

Restart your machine, run Excel, and use Ablebits tools to make sure Excel does not crash anymore.
If you have tried all the described above solutions but Excel still crashes, please contact us at support@ablebits.com.
Please attach all log files next time Excel crashes. You can find them in the folder: %USERPROFILE%\AppData\Local\Temp\Ablebits
Simply copy this string to the Windows Explorer folder bar, zip all files, and email them us.