The crash of Excel is one of the most annoying events that could arise while you are working. Unfortunately, it happens once in a while.
If you use Ultimate Suite and your Excel keeps on crashing, please try out the four solutions we offer on this page. In case none of them helps, please contact us right away.
Important! As we are unable to detect when your Windows or Office versions are updated, before taking the steps below, please restart your machine.
Note. Not activated and unlicensed Microsoft Office does not run add-ins correctly.
Solution 1: Install the latest version of Ultimate Suite
The reason may be in the outdated Ultimate Suite version and its incompatibility with the latest Microsoft updates. Take the following steps:
Go to the Latest versions page, download and install the edition of Ultimate Suite you use.
Solution 2: Repair your Office
Repair your Office by following the Repair your Office guide.
When the repair is complete, restart your computer. Then open Excel and run any of the Ablebits utilities. If Excel crashes again, please try the solutions below.
Solution 3: Update your Office
If Office repair hasn't helped, the reason for the crash may be an older Office version, so follow the Update your Office instructions and run Excel again. If Excel crashes again, try the solutions below.
Note.
Ablebits does not support Office Insider and Windows Insider versions. Our add-ins may work on them, but we cannot guarantee the quality as it is out of our control.
To find out if you are using Office Insider, go to Excel - File - Account. If you are part of the Insider program, you will see it in the Product Information section: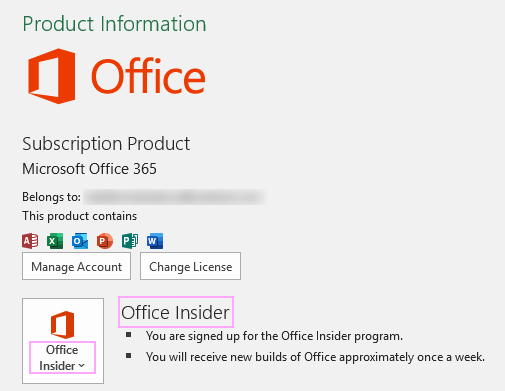 You can opt out of Office 365 Insider program.
Solution 4: Use the .NET Framework Repair Tool
If the previous steps haven't helped and Excel still crashes, please try out the .NET Framework Repair Tool.
When you are finished, restart your machine, run Excel and make sure it does not crash anymore.
Solution 5: If you use the Bitdefender antivirus, check the settings
If you use the Bitdefender antivirus, it may be the cause of the crash. Change the following antivirus settings to avoid this issue:
Open the Bitdefender antivirus, find the ADVANCED THREAT DEFENCE tab, and click Settings:

In the Advanced Threat Defendence window, make sure to turn off the Exploit detection option:

Close the antivirus, run Excel, and start Ultimate Suite.
Contact us
If you have tried all the described above solutions but Excel still crashes, please contact us at support@ablebits.com.
Please attach all log files next time Excel crashes. You can find them in the folder: %USERPROFILE%\AppData\Local\Temp\Ablebits
Simply copy this string to the Windows Explorer folder bar, zip all files, and email them us.